Some SBOL forum members posted Featured Rider questions for me in a thread Wookie started. So, here are my answers. Sorry for the delay - the end of the season was busy and I have been doing some international travel for work. Thanks for the questions.
SBOL: Regular forum members and riders from the Philadelphia area know your real name is David and that you live in South Eastern Pennsylvania. Can you tell us more about the area where you live and ride?
I live about 35 miles north and west of the city of Philadelphia, Pennsylvania in the US. It is a fairly typical suburban area near a few small towns. There is still a fair amount of open space and farmland but the area has developed a great deal since we moved here 13 years ago. It is a good place to live overall – I am 45 minutes from Bear Creek Mountain Resort (my home mountain), within 45 minutes of multiple small streams that are either special regulations trout water (e.g., delayed harvest) or hold wild brown trout, a 10 minute bike ride to a rails-to-trails path that links into a larger network of trails spanning many tens of miles northwest and southeast and within 5 minutes I can be on some great back roads for motorcycling.
SBOL: Can you share any photos of skiboarding moments that you love with the Forum?

Bear Creek Mountain Resort – looking from the top of Sasquatch – a beautiful view at night
My Daughter at Bear Creek at the top of Bear Trap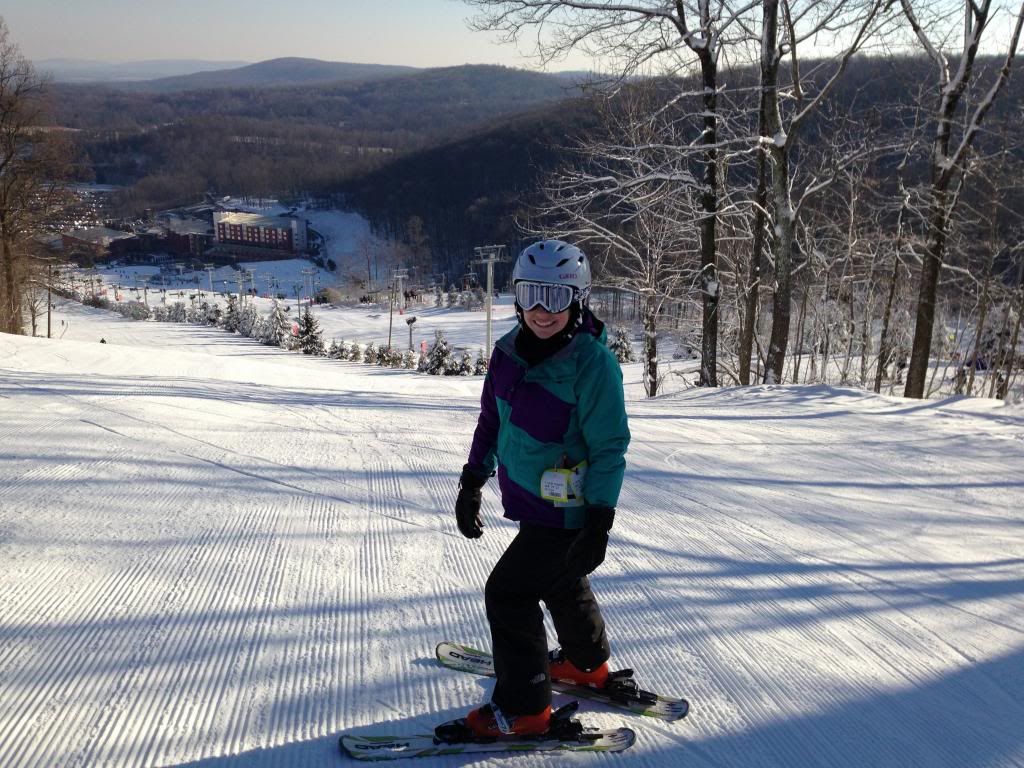 Frosted Elk (Mountain) Ski Resort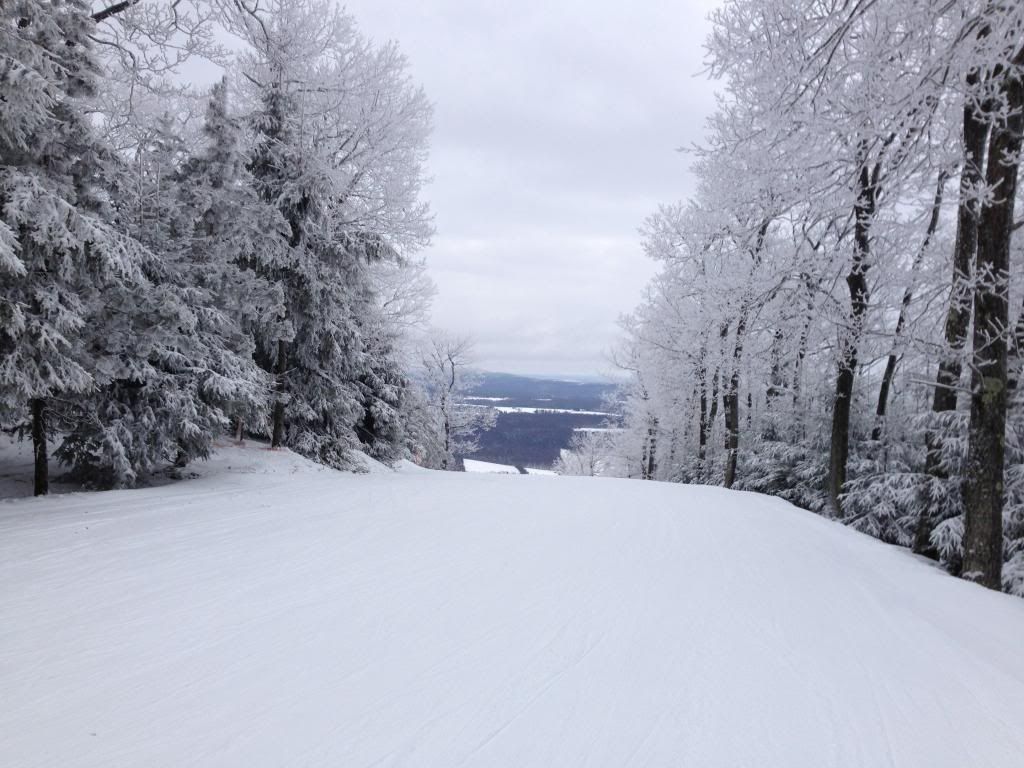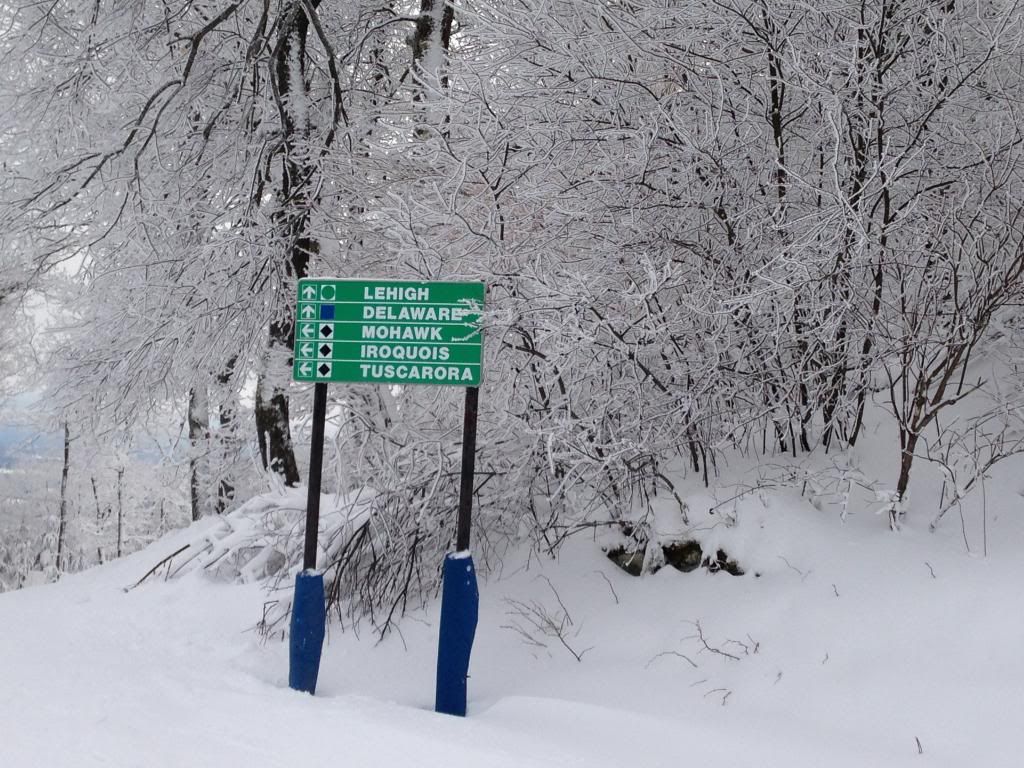 On the Ride Down from the Top of Heavenly At Shredfest V
More Heavenly – Unmatched Views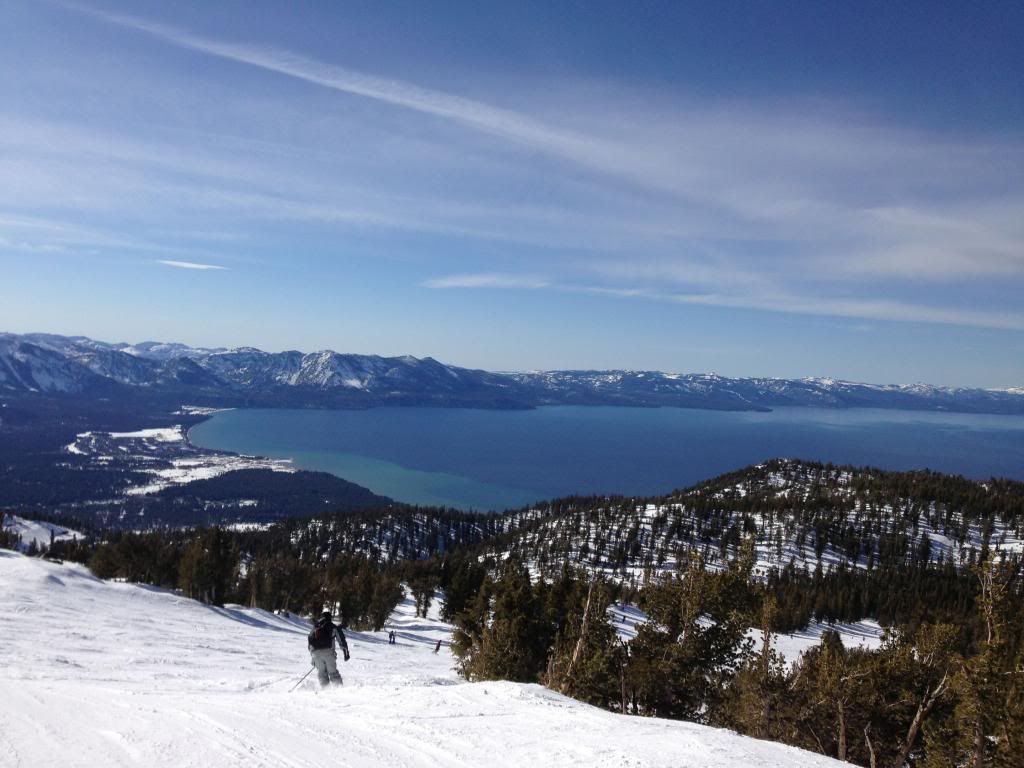 View from Jack Frost on the West Side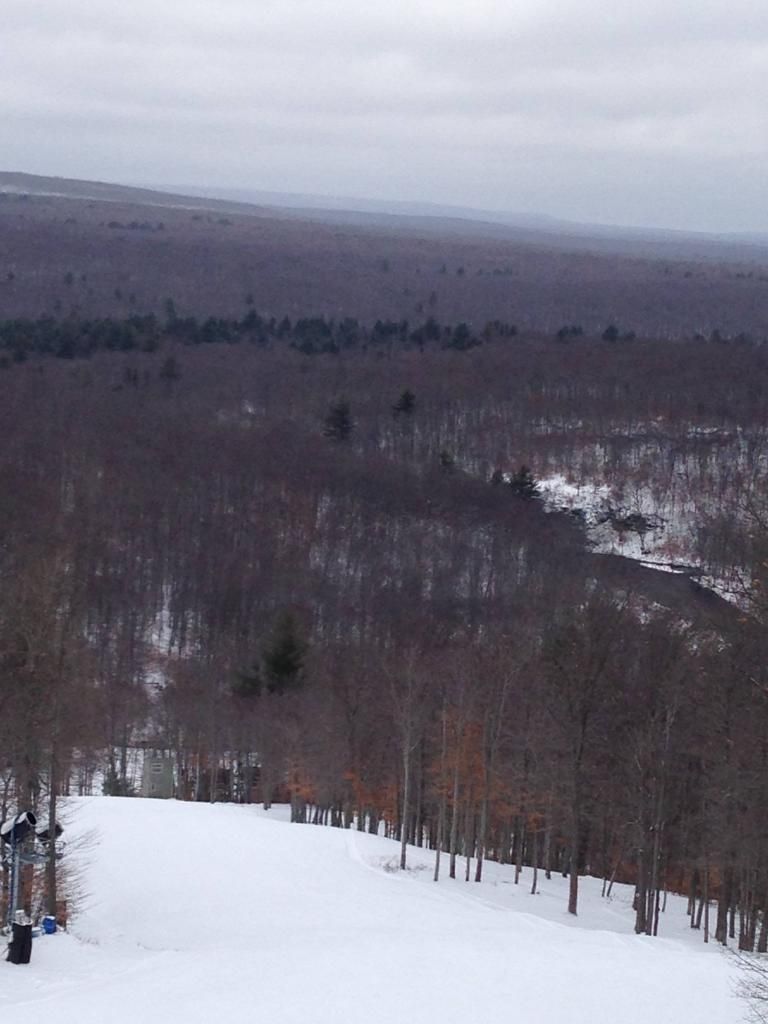 View from the Top of Kirkwood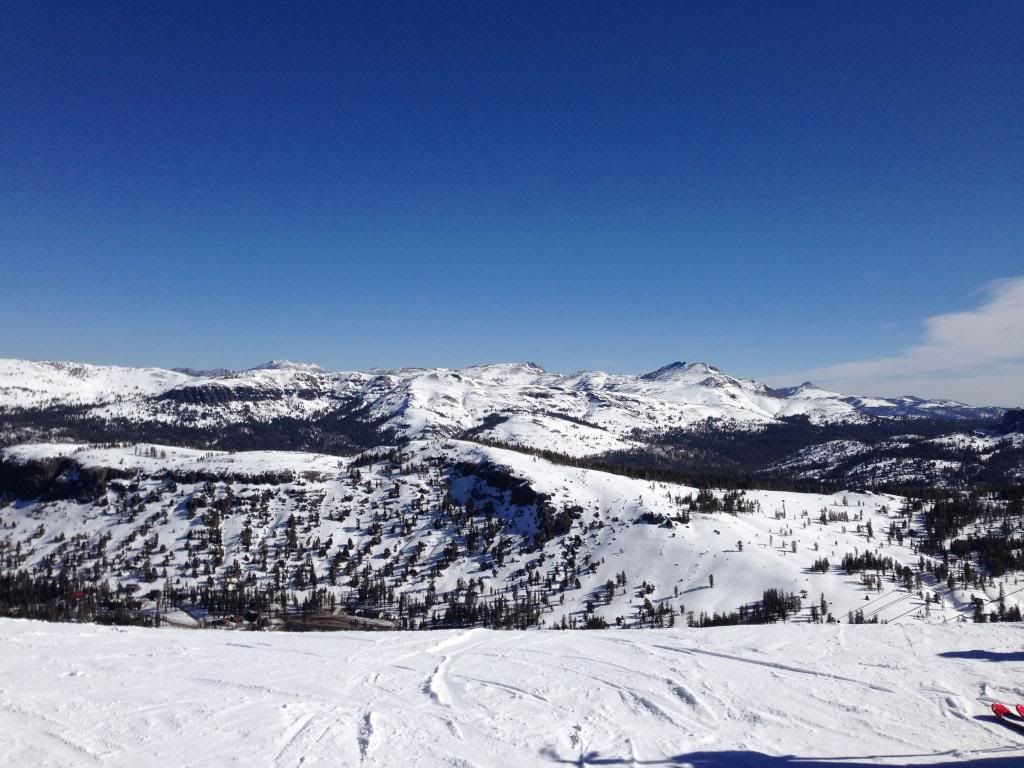 Mount Rose in Reno, NV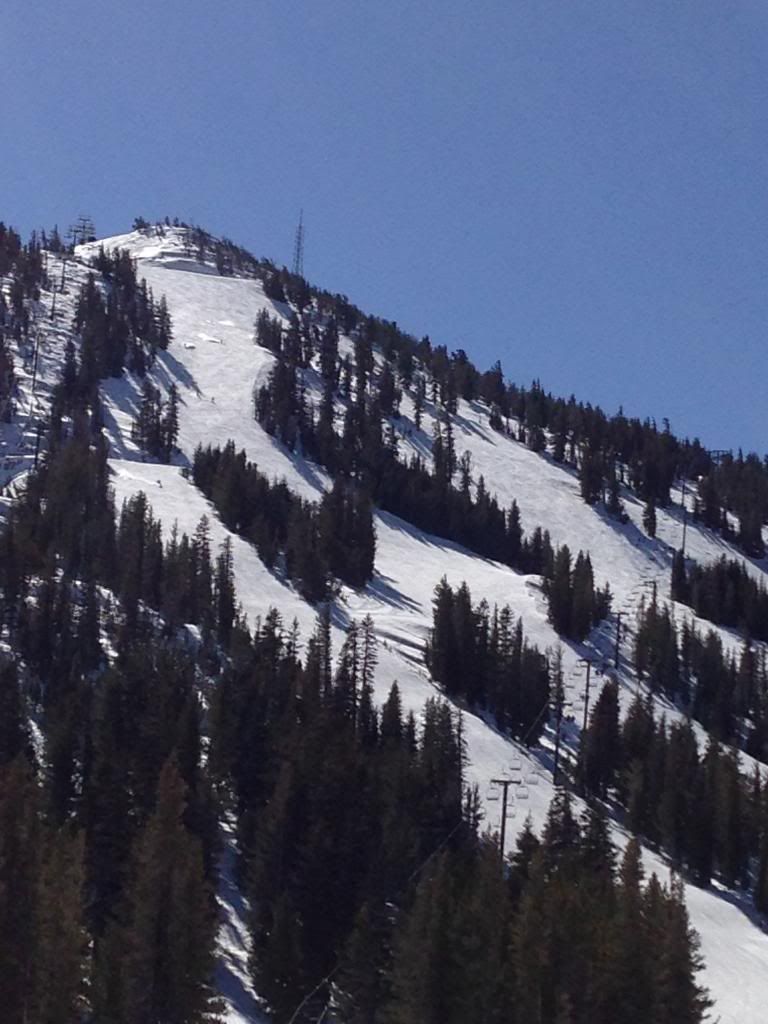 Sierra at Tahoe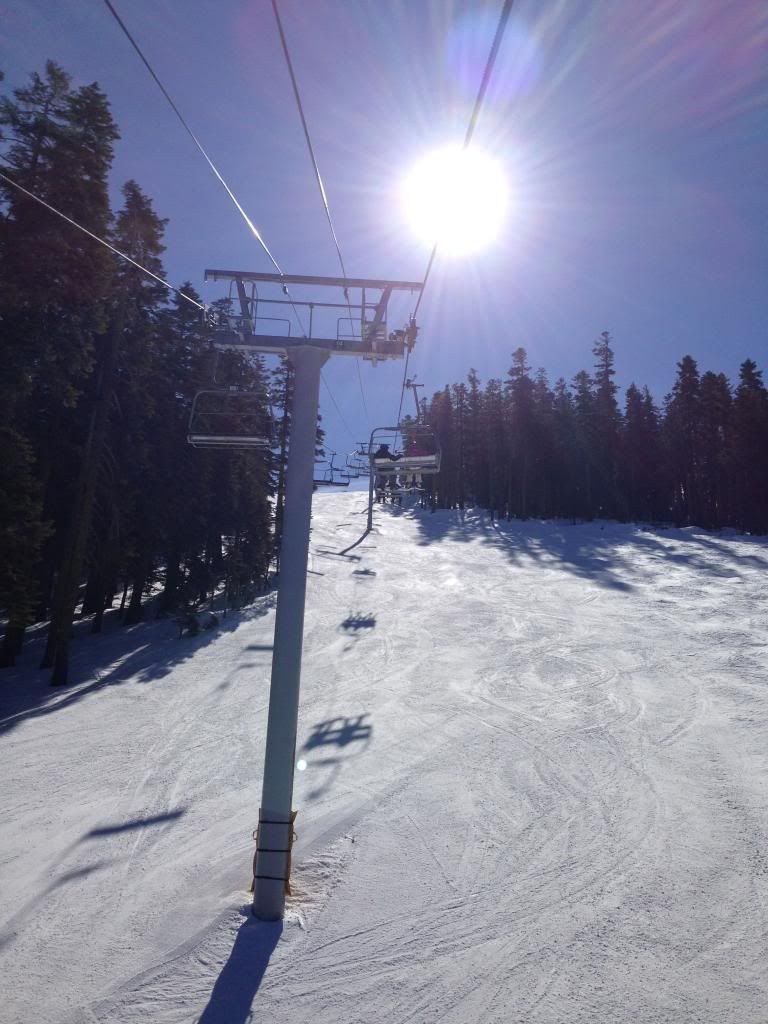 The View from the Entrance Road at Whiteface Mountain, Wilmington, NY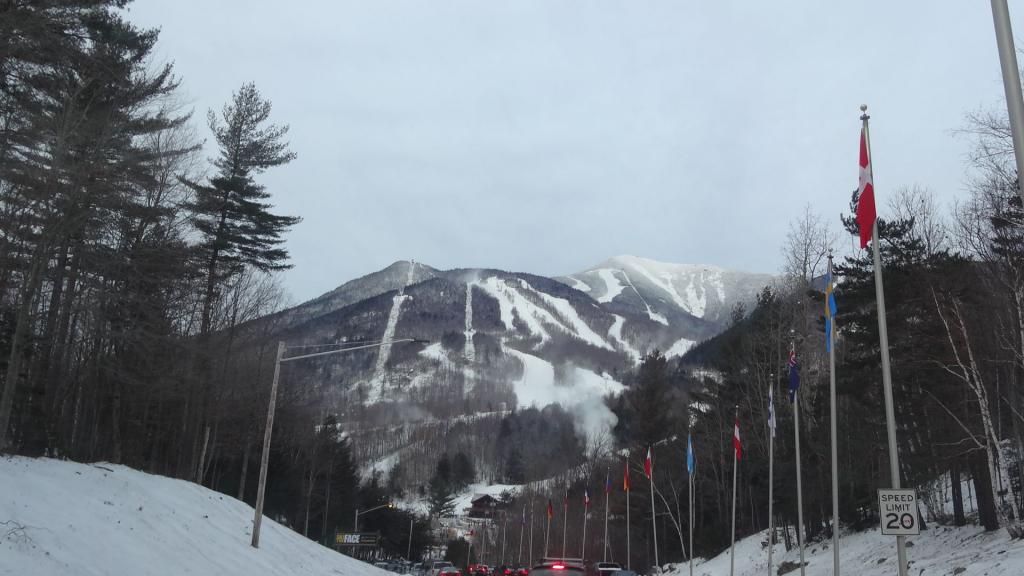 SBOL (Wookie): We know that you started on Heads and followed a journey with stops on the Spruce 120's and Blunts before finding your quiver of one with the Sherpas. While you obviously love the Sherpas what special aspect/features would you build into a "Bluewing Custom" skiboard that would become the perfect quiver of one?
Well, this question was asked before I moved on to a set of K2 AMP 80XTI skis so I have a new quiver of one. My perfect quiver of one skiboard would maybe follow two paths:
1) A board based on the DS110 – this is a board design that was created by forum member valmorel as the ultimate all mountain board 110cm or below. I spent some time on a DS110 prototype and the board shows a great deal of potential. The prototype construction quality was terrible – really just terrible; however, even with all of its flaws its potential was very evident. I have an updated design thanks to the help of valmorel and slow that incorporates a bit of mild rocker tip and tail and a few other minor tweaks. Chad at Coda gave me a quote to build it for $550. Only change I would make now is to design it for direct mounting of the bindings.
2) A board modeled after the Icelantic Scout (145cm) – I have never ridden the Scout but Ben at Icelantic apparently came from a skiboarding background. When the Scout came out quite a few years ago I think this design was intended to bring many of the attributes of a skiboard to a shorter length ski. I would update this design with a bit of mild rocker tip and tail and see how it rode.
SBOL (ElkCloner): What was the best concert/show you've been to?
That is a good question. I actually have not been to all that many concerts – at least not of big name bands or performers. One of the most memorable shows was when Patty Larkin came to the Steel City Coffeehouse in Phoenixville, PA. This place holds maybe 70 people. We got there early and had a high top table maybe 10 feet from the right side of the stage. I was standing just behind our table before the show when I looked over to my left and there was Patty Larkin standing right next to me with her guitar strapped over her shoulder waiting to go on. I talked to her for a few minutes and she was really cool. During the show we were so close – it was really interesting to watch how she played the guitar while performing.
SBOL (sempai): You've mentioned on the forum that you snowboared for three years. Why did you give it up?
I took up snowboarding because my youngest daughter wanted to learn. She did two Burton "Learn to Ride" sessions of lessons at 3 hours each but still needed help learning. I decided to take a 1-hour lesson so we could snowboard together. Wow – I can still remember how exhausted I was at the end of that hour lesson – I literally got to the point where I couldn't get up again after falling down. I spent a lot of time online reading about snowboarding technique and skills and spent a lot of time on the mountain learning. I was 42 at the time so maybe not the best age to start snowboarding. I eventually got to an advanced intermediate skill level after 3 years. She was perhaps the wiser of the two of use and gave it up after 1˝ years.
I had fun but to be honest never felt entirely at ease on a snowboard. My experience was that there is not a lot of room for error and when I made a mistake there was often no saving it. When you crash on a snowboard, at least when I did, there are 2 ways you go down: a) frontside crash where the frontside edge grabs and you get levered into the mountain face first; or b) high side where the back edge grabs and you get hauled over backwards.
I rarely fell once I built up my skills but when I did it was usually spectacular. I was getting too old to hurt my shoulder (which I did and took 3 months to rehab), pull my hip flexor (which I did and took 6 months to heal), etc. I was already thinking my snowboarding days might be limited when I took a trip to Whiteface Mountain in Wilmington, NY on St. Patrick's Day 2011. I stunk the place up with my poor riding that Saturday. I was intimidated by the mountain and just embarrassed myself. My friend suggested that I take a 1-hour lesson on 90cm Salomon blades with release bindings the next morning, which I did. I had a blast and never snowboarded again.
SBOL (sempai): You use poles. Was there ever a time you didn't?
When I first started skiboarding I didn't use poles. It was good because I never knew what to do with them when I skied in the past. I started using poles when I moved up to the Spruce 120s – at first to help me learn to ski better by holding the poles parallel to the slope in front of me as a ski exercise. Then I started using them to help me navigate lift lines after getting tired of sliding around in line and burning up energy just navigating to the lift. I eventually started using them in the "proper" way while skiing. It clicked one day and suddenly poles made sense. They helped me with turn timing just by being in my hands and acting as visual queues. I learned to pole plant when needed which is a valuable skill to have. Now, I can't imagine skiing without poles because they are such an essential part of the experience.
SBOL (sempai): You are experimenting with skis. When you convert over completely, will you bid adieu to skiboards and the forum?
Well, the conversion is complete. I got out on rental skis 6 times starting around mid-season this year and then bought a set of K2 AMP 80XTI frontside skis. I was a weak intermediate skier in the past but my transition back to full sized skis went really well as I have noted in a thread on the forum. After a few times out on the K2s I was skiing at a higher level than I was on my Sherpas. Super stoked about that. Everything I learned on skiboards transferred directly. I have sold all of my skiboarding gear. My daughter is still on Spruce 120s. I do plan to hang around the forum.
SBOL (sempai): You've ridden with some of the legends of skiboarding. Who was the fastest skiboarder you ever rode with, and does his name rhyme with tempai?
If we use a formula that adjusts speed for age of the rider then sempai at his advancing age is likely the fastest rider I have ridden with
. I have ridden with some fast guys – Dave Lynam, Kirk Thompson, krillinakw, CrazyBoy-1, macrophotog. I ski fast but not quite in the same league as these guys.
SBOL (Bad Wolf): You obviously think a lot about technique and equipment and have provided many great links to instructional videos. One of the marketing points for skiboarding is that we don't need ski lessons to improve. Do you believe technique and instruction are important in skiboarding?
I think technique matters for sure. The principles of physics and biomechanics apply regardless of how long the skis/boards strapped to your feet. I think one benefit of skiboards or short skis is that they make learning easier at first. This helps people go "parallel from the start" (no wedging) and also helps people feel comfortable on the snow pretty much from the start. Both of these are key. If you can go parallel from the start then you can learn proper technique right away. I never understood the traditional way of teaching skiing – they teach students to wedge and do other things only later on tell the student, "OK, now it is time to stop skiing that way and do this instead".
Skiboards are intuitive for most people and from my experience have a shorter learning curve than skis. But, good fundamental technique of proper body position over the skis, balance, driving the skis with you feet and legs, minimizing upper body rotation, body position of "facing the danger", good leg angulation, etc. all are important. Yes, you can get down a run on skiboards with poor technique but ultimately poor technique will limit your skills progression.
Does a person need lessons to learn? It depends. With some reading, watching some videos and maybe some time on the slopes getting coaching from an experienced rider I think many people can learn to skiboard without formal instruction. Some people might benefit from lessons; however, my advice would be to find an instructor willing to teach using "parallel from the start" methods and who is also open to teaching a rider on skiboards.
SBOL (ElkCloner): What is the story behind your username?
One of my hobbies is fly fishing. Earlier in my fly fishing experience one of my favorite fly patterns was a dry fly called a "bluewing olive parachute". I rarely fish dry flies anymore but the name "Bluewing" has stuck in my mind and online personas.
SBOL (Ukuvox): If you were a tree, what kind of tree would you be?
Classic question. I would want to be a tree on a great mountain. Maybe an evergreen in Aspen's backbowls or a tree that becomes a "snow ghost" like at Big White.
SBOL (Ukuvox): You've recently started a conversation about alternate forms of snow sliding. Is there an alternate method that you'd still like to try and is there one that you wish you hadn't bothered with?
I really enjoy watching the telemark skiers at Elk Mountain and the few who are starting to ski at my home mountain, Bear Creek Mountain Resort. I would like to try that someday. I also want to try backcountry skiing someday. I think it would be really cool to skin up a beautiful isolated peak with some friends and then ski down.
SBOL: (Solarmoon): If you could go to any ski resort in the world where would it be and why? Who would you take?
That is a really tough question. There are so many places to ski in the world and I have been to so few of them. If I could only pick one place I think it would be Chamonix, France. It is so famous and has such a rich history of skiing and alpine adventures. I am not sure how much of Chamonix I could actually ski but it would be cool to go there and see the grandeur of it and maybe watch some of the people who do such crazy things in those mountains. I would take my friend Bryan, who I ski with a lot. He and I have progressed together over the last 6 years or so we have been skiing together so it would be cool to take him to Chamonix and see what we could survive.

SBOL (shotrydude): A Bluewing Teal is a species of duck. Can we hear you quack like a duck?

http://www.audubon.org/sites/default...=551fdfdab6881