Up next in the Featured Rider profiles is Wookie. At 6 feet 5 inches he might be one of the tallest guys out the mountain riding skiboards. An active member of our community and exceptional ambassador for our sport.
SBOL: What is your real name? What is behind the screen name "Wookie"? Why did you pick it?
My real name is Chris. While I love the nickname, Wookie was not a name I picked but was given to me by my friends a long time ago. I am 6'5", a bit hairy, and tend to grunt and growl to communicate so being compared to a tall walking carpet from Star Wars seems to fit. I use Wookie as a username a lot in online communications so if you come across an irreverent Wookie on another forum or blog it might be me.
SBOL: Can you tell us a little bit about where you live in South Jersey?
If you look up suburbs in the dictionary it might have a picture of my neighborhood in New Jersey. I share a quiet suburban home with three lovely ladies (wife and two daughters ages 11 and 8). While it is no luxury mansion it is a great place to live with a very active and close knit community that is located just a quick commute to Philadelphia and easy business travel to the New York metro area and other East Coast cities. The only bad thing is that it is about 90 minutes to the closest mountain which is not exactly "ski in/ski out".
SBOL: How did you into the sport of skiboarding? What keeps you involved in the sport?
I had skied off and on since I was a teen with very limited success. This was very frustrating since I am a very good ice skater, ice hockey player, and love outdoor winter sports. For Christmas of 2011 my wife gave me a pair of 101cm Defiance Blades. I immediately went from frustration to enjoyment. After lurking for a few months I joined the Forum and purchased a pair of used Spruce 120s from a fellow Forum member and was officially hooked.
The sheer fun of cruising all over the mountain keeps me on skiboards but the great community on this Forum keeps me involved here. Most of the online world is harsh and critical. The SBOL Forum is fun, helpful, and generally a great group of people that share the same passion.
SBOL: You go to some of the resorts in the Pocono Mountains in Pennsylvania that are often very crowded on the weekends and can be a bit of a demolition derby on the slopes. What tactics do you use to make it as safe and enjoyable as possible for you and your family?
We do call the Poconos our home ski area but are not tied to any one hill. With a 5th grader in the family we have the opportunity for her to ski/ride most of the Pennsylvania resorts up to 3 times free with the PSAA Snowpass program so we tend to jump around to all the resorts for variety and to keep costs down.
To beat the crowds we ride on days and at times that are typically less crowded. Our normal weekend trips are Sundays not Saturdays. We start as close to resort opening as we can get. If the mountain is a zoo by 2pm we just call it a day as we usually have 5-6 hours in by the time the crowds get too bad. We don't ride Camelback or Blue Mountain all the much preferring Jack Frost, Big Boulder, and Elk which tend to be less crowded. We also check the race and event schedules of local mountains and avoid the ones that may be having a big event or ski team races.
As far as staying safe that is becoming easier as my entire family becomes better riders/skiers. Most of the danger is on the crowded beginner runs and my family can now escape that mess on the intermediate and advanced runs. My kids are also smart about safe places to stop on the slopes, yielding to traffic, and being aware while on the mountain.
SBOL: What are some of your favorite places to ride? If you had to pick one place, what is your favorite and why?
I love skiboarding in Colorado. Being a big guy, riding skiboards in bottomless powder or rock hard ice can be a challenge and the snow in Colorado tends to be the right balance between dry and not too dry so that is has a bottom and is rarely icy. The conditions are fun but not to where I have to work to hold an edge or keep my 200lb frame afloat.
If I was forced to pick just one place it might be Vail in the spring. The back bowls at Vail are a blast and a must do bucket-list item for any snowsports lover. Visiting in the spring means fresh snow overnight but blue skies and t-shirt riding during the day. It's heavenly.
SBOL: You have gone to Beaver Creek, Colorado with your family a few times and really seem to have enjoyed it. Any insider tips for Beaver Creek?
The youngest of our clan tells all her snow buddies that Beaver Creek is our home mountain. I wish financially I could say that was true. We have gone there the past few years and plan to go back again this year. Here are some tips/thoughts:
The Beav is great for families. If your family includes young kids or teens this is a great place to vacation.
The resort's motto of "Not Exactly Roughing It" is code for not cheap. You can keep the costs down by purchasing a local season Epic pass and staying in the valley (Avon, CO) rather than on the mountain.
Eat at Blue Moose Pizza. There is nothing better than ending a day of riding with a pizza and a craft beer at the Blue Moose.
Go snowshoeing at the Walking Mountain Science Center. This is a great break from skiing/skiboarding. The Center does fun hikes and nature tours.
Ride/Ski the right side of the trail map. Most of the crowds tend to be on the left side of the map up the Centennial and Cinch lifts. There are usually less crowds and great riding in the Bachelors Gulch and Arrowhead sections of the mountain.
Avoid Texas Spring Breaks. If you are planning a spring trip to Beaver Creek check the calendars for the Dallas and Houston school districts. Many Texans vacation at the Colorado resorts during these breaks and the crowds get bad. Note: I have nothing against Texans I just don't like standing behind a thousand of them in a 15-20 minute lift line.
SBOL: If you could have a pair of custom skiboards built to your specifications what design and ride characteristics would you want?
The Forum seems to be in love with fat, rockered, zero camber boards. Since my riding style is very upright and back on the tails a bit I have yet to fall deeply in love with full rocker skiboards. I love longboard skiboards and would love to see a mix of rocker and camber in longboard skiboard. I think Rob (FightingForAir) is on the right track with his Chupacabra & Chimera projects that look to go rocker/camber/rocker in their design.
If I was sketching up a design it would be in the 120-130cm range. The board would be completely symmetrical and have a max width around 15.5cm. Turning radius would be less aggressive than some of the boards out there now (around 9m). The core of the board would be cambered under foot with a very gentle rocker at the tip in tail. I would best describe this as a wider Spruce 120 with 5cm of rocker tacked on the front and back. I could see this board having the great cruising characteristics of the 120s with the powder float and crud busting capabilities of the nextgen boards. What would we call this board? The Millennium Falcon of course, what else would a Wookie ride.
SBOL: If you could pick anybody – living or dead – to ride with for a day who would it be, why would you pick them and where would you want to ride at?
Many responses to this question in the past have been either philosophical (picking some great figure from history) or in the interest of preserving marital harmony (picking a spouse). Since I know the Dali Llama does not ski and my wife does not read the forum I am going a different direction.
I would chose to spend the day doing laps on the FIS Alpine World Ski Championship Birds of Prey course at Beaver Creek with my youngest daughter and Lindsey Vonn. I love riding with my daugthers. The youngest is the better skier and idolizes Lindsey Vonn. This would be an awesome day to watch her ski with her idol and I get to hang out with the lovely Lindsey Vonn without Mrs. Wookie asking any questions.
SBOL: Where would you like the sport of skiboarding to go in the next 3 to 5 years?
I have three wishes for our sport in the future:
I hope it has grown but is still supported by close community.
I would love to see a few more small companies enter the mix. I love Greco and Jeff and do not want to see the big ski companies rediscover skiboarding but if there others looking to modestly expand the sport and market that can only help its growth.
I would love to see the development of a skiboarding specific binding/boot system. All of what we have today is taken from skiing and snowboarding. Every time I look at my heavy ski boots/binding combo or someone's soft boot set-up I think there has got to be a better solution. Skiboarding is as close to skating as it is to skiing. Perhaps a nextgen skiboarding boot and binding looks more like an ice skating boot than a ski boot. Lighter, sportier, better!
SBOL: Do you have a favorite skiboarding memory – good or bad – something that really stands out in your mind?
I have a ton of great memories and most of them include riding with my kids to pick one memory would be like choosing my favorite daughter so I can't do it. I will say that I am blessed that my family enjoys being on the mountain as much as I do. I am sure I will have a ton of new, great memories after this season.
SBOL: Can you share a few of your favorite wintersports photos with us?
Pic #1 – Me and the ladies at Beaver Creek on a powder day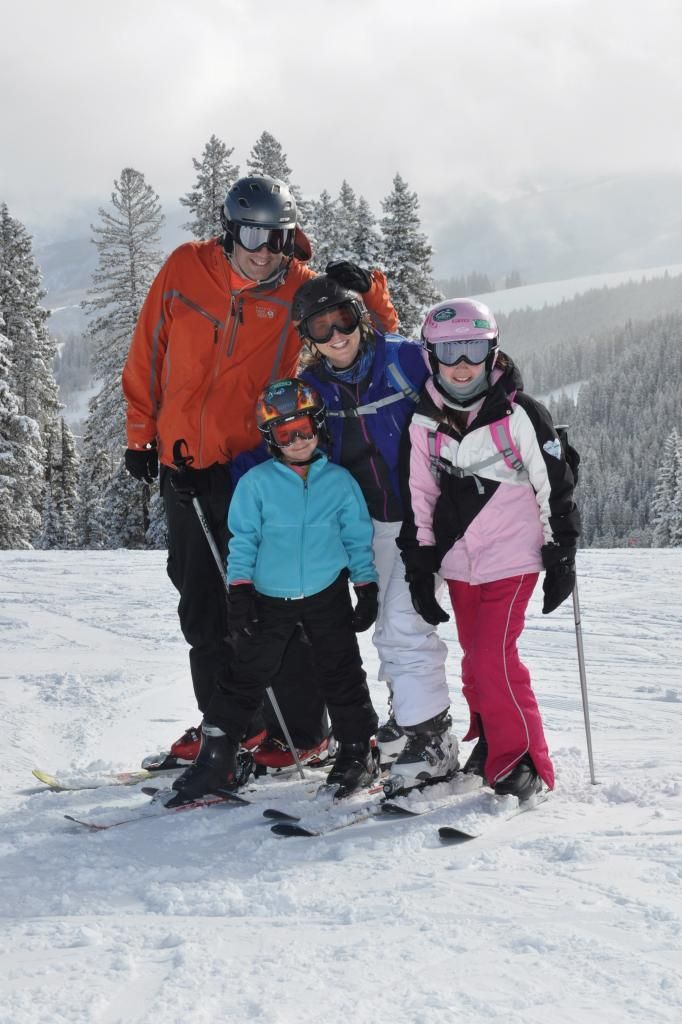 Pic #2 – Nothing better than Colorado viewed over the tips of skiboards
SBOL: Any final thoughts?
Thinking about the growth of the sport, we have great equipment, a great community, and most riders generally agree that skiboarding is easy to learn relative to skiing and snowboarding. While many of us encourage our adult friends to try the sport I think the limiting factor in growth is the lack of equipment for kids. While we have shorter boards that might be good for smaller riders I think the sport's long-term health would benefit greatly from kid specific gear with lightweight direct mounted adjustable release bindings. I would love to see something like this brought to market while my kids are still kids.