First up for the 2014/2015 Featured Rider Profile series is Branden Harding - a RVL8 team rider. Thanks to Branden for sharing a bit about himself - enjoy reading!
SBOL: So we know your real name is Branden Harding, you are 28, you are a student, you work in a ski shop and you live in Southbury, CT – unless of course none your profile or in what you said in the opening to Episode 1 of B Lyfe is true! Can you tell us a bit more about yourself – what it's like to work in a ski shop, where you are going to school, what you are studying and what it's like to live in your town?
I have worked in the ski industry since I was 16. I started teaching snowboard lessons at 16, at 18 I got a job at my local ski shop as a sales associate and part time tech. 10 years later, I'm still at a ski shop but now just a tech. There isn't anything I can't fix on a ski or snowboard. Ski shops will never make you rich, but everyday is always interesting, and just being able to swap stories and talk with other skiers is a blast. I want to stay involved in this industry for as long as I can.
I go to Central Connecticut State University (CCSU) and I am studying Exercise Science & Health Promotion, I love everything involving the human body and the healing process of injuries, more specifically sport injuries. Someone has to fix idiots like us when we make mistakes, if it weren't for a great physical therapist I wouldn't be skiboarding today.
My town is full of rich snobby people who care more about how they look and how people see them. I can't wait to move away from this area. Once I am done with school I plan on going out west or up north, or as far as my fiancé lets me go.
SBOL: How did you get into the sport of skiboarding? What keeps you involved in the sport?
I started snowboarding, I taught lessons and did some basic stuff in the park. After pushing my limits on a very sketchy hill, I attempted to jump a Snow-Cat. I landed far on the front of my board and broke my elbow. I sold my snowboard and never went back. I always liked inline skating so after speaking with a Salomon Rep at my ski shop he set me up with my first twin tip skis (Salomon 1080's) in 2004. I did a few 360s and basic grinds but something was missing.
After messing around on Google, I found Skiboard Generation run by Courtney Celley. I still remember the song that played when you loaded the website by A.F.I. After watching 3-4 videos of Kirk Thompson, Bailey Mitchel and others I was hooked. I bought a pair of K2 Fattys and was hucking pencil spin 900's on Butternut's 15ft table-tops. I found Skiboardsonline through Skiboard Generation and emailed back and forth with Greco. After finding out he lived 30 minutes down the road from me we decided to meet up. He set me up with my favorite boards to date, Brinton Gunderson Pro's. The entire day he followed me with a camera only taking a few runs for himself. I even witnessed him blind 270 off a sketchy log rail.
My love for skiboarding and love for the community is what keeps me involved in the sport. I have met some life long friends; traveled to places I only read about in magazines and have had a smile on my face the entire time. Now all I want to do is give back to the community with videos, opportunities to skiboard with us "pros" and share the love for skiboarding with everyone I can.
SBOL: How long have you been a RVL8 Team Rider and how do you get hooked up with that?
I originally sweet-talked and conned my way into getting sponsored by Loken Industries. I definitely didn't deserve it at the time, but after feeding a few drinks to Loken at the U.S. Open I was in. RVL8 started picking up the real pros, Adam Lynam, Ben Wannamaker, and Kirk Thompson. Loken died off but it didn't stop me from trying to be sponsored, at that point in my life having a sponsor was my goal. Fame, glory and riches all to be mine. Little did I know that all of those things were dreams. Greco finally approached me after I pestered him with video submissions and asked me to ride for RVL8. I couldn't be more stoked, I then realized I did get what I wanted, I became rich in good friends and great experiences. I knew this is what I wanted to be involved in for as long as I can.
SBOL: Which resorts do you ride at the most? Any insider tips on those resorts or any cool things there most people might not know about?
My favorite resorts near me are Carinthia at Mount Snow Vermont and Ski Sundown Connecticut. Ski Sundown is a small hill in CT, but is so close and cheap that me and my friends have the most fun there messing around, drinking a beer or two during lunch and just hot lapping their simple park. Carinthia hands down is my favorite terrain park mountain. I've been skiboarding and filming there for years. The quality of their features and progression keeps me going back time after time. It is worth the 2 hour drive from Hartford CT.
Insider tip: West Dover local party life is awesome, all the Ecuadorians, Brazilians and Argentinians that come up to work there for their summer throw crazy parties in the middle of nowhere. A 6 bedroom house miles into the woods with only 1 car in the driveway will be filled with 75+ people dancing, drinking and partying on the pool tables. So make friends with the liftees, they know where the party is!
SBOL: What is the inspiration behind your B Lyfe series? Anything special planned for the series this season?
I always wanted to put out more video footage of skiboarding. I have always watched Line's Traveling Circus and love their creativity but I wanted to do smaller edits, and being in school prevents me from traveling the country in a van. Then Ian Compton's The Weak came out and I found my inspiration. I loved the shorter edits Ian put out because they showed simplistic fun and they were more relatable to me, so I knew exactly what I wanted my edits to be like. Not to mention it was also an excuse for me to ski more and try new things.
As for this season I plan on getting more people on camera, I have set up a "B.Lyfe East Coast Tour" which is taking place in January. We are visiting 5 mountains in 5 days. Okemo, Sugarbush, Loon, Killington and Jay are on the list. Pretty much every RVL8 Rider will be making it out to share the stoke. There is a thread on the forums asking for challenges that you all would like to see done. We also have a major wild card attending: HardCore. Don't be surprised if you see a man in a Monkey Suit throwing a backflip off a cliff at Jay.
SBOL: What boards are you using this season?
I am riding 2013 KTP's with Black RVL8 Receptor bindings when I am in the park. But when I am cruising or just running random laps around the mountain I ride Rockered Condors with Blue RVL8 Receptors. I will probably ride them both equally this season. I am all about that stability!
SBOL: If you could ride anywhere in the world where would it be and why?
Japan and Chamonix France are the top two places I'd like to skiboard in my lifetime. My park days are limited but my love for big mountain skiboarding is growing. Until the creation of Rockered Condors, skiboarding waist deep pow was only a dream but not anymore.
SBOL: Any advice to riders who are just starting out in the park? What about for intermediate park riders who are looking to take their riding to the next level?
My best advice for riders is to get good at what makes them happy and what comes natural. If 270ing on a rail isn't your thing, but hand dragging knuckles and stalling on random trees is, then stick with that. Make your style YOURS, don't try to replicate something or someone you're not. Most importantly, have fun doing it! Yes you will probably fall trying new things, but if you're ending the day with a smile on your face, then your doing it right.
SBOL: Do you have a favorite skiboarding memory – something that really stands out in your mind?
I don't. I love every second I get to skiboard. I've had great days lapping small parks with my buddy Paul and great days filming at Mount Snow with the RVL8 crew. They all stand out in my mind, and I can remember at least 2 crazy things that happened from each time that I have gone. Every day I skiboard is better than the last, so when you see me skiboarding I am having the best day of my life.
SBOL: Can you share a few of your favorite wintersports photos with us?
Black n white – 900 Safety Grab at Sundown, Photo by Paul Orr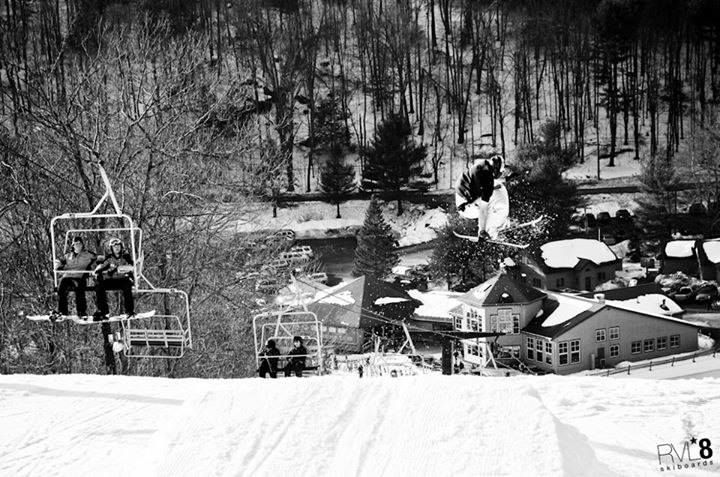 First Time Skiing Real Backcountry Cliffs in Tahoe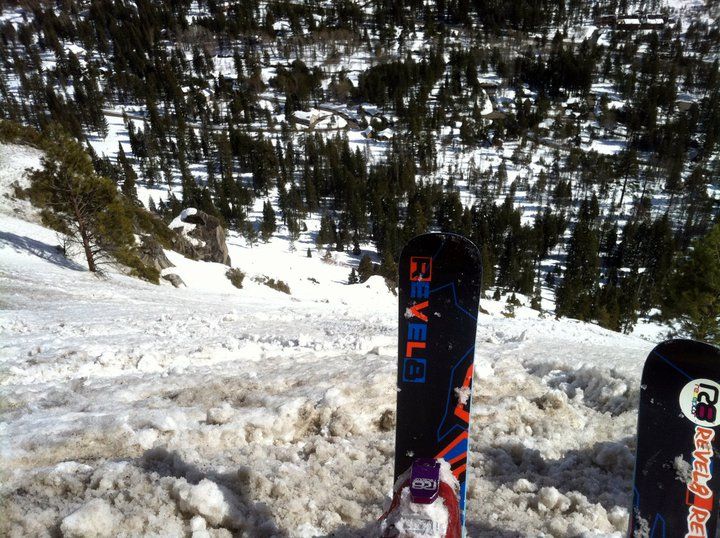 Mailbox Rail at Butternut – Photo by Greco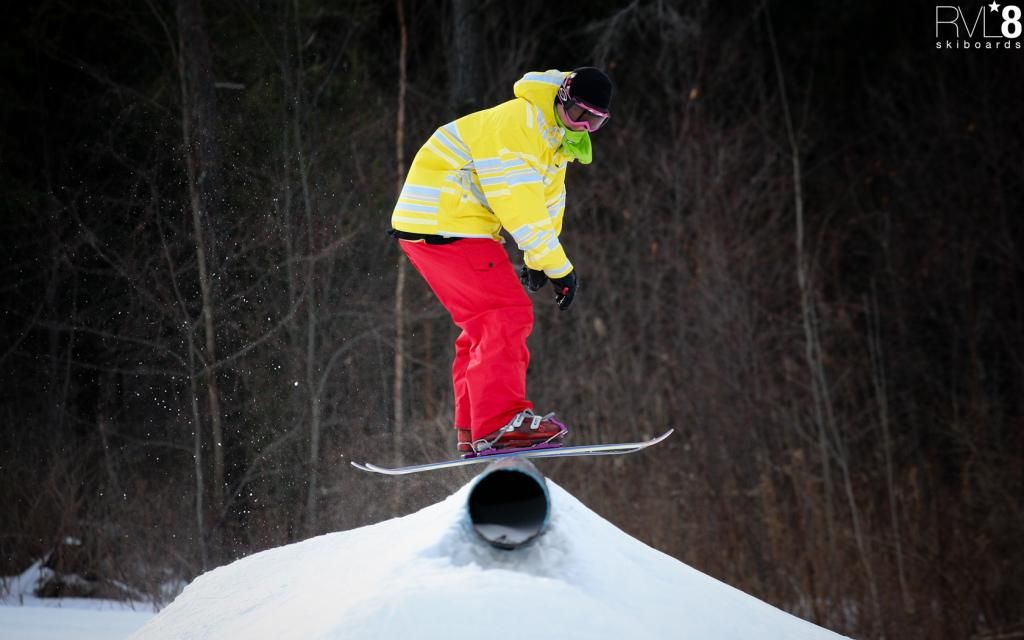 Enjoying that West Coast Sun – Photo by Greco
SBOL: Any final thoughts?
Skiboard to have fun not for any other reason, I really want to drive that point home. Do not let anyone ever bring you down because you do something different or "uncool". Keep doing, trying and learning new things. Every chance that you can, try to convince a friend, a family member or even a random skier on the hill to try skiboarding. What is the point of having all the fun in the world if you can't share it with others.