Alright - our first 2'fer! This time up we have the dynamic duo, the husband and wife team of CAN and CANtoo. I had the pleasure of meeting them and doing some riding with them at Shredfest V. They might not be California natives but to me they are quintessential (hey CANtoo - check out that word!) Cali - warm, open, fun, cool.
SBOL: We know your real names are Chad and Cindy and that you live in Rialto, CA. Can you tell us a bit about what it is like to live in your area?
It's nice living in Southern California where we can be active year round. We're from the Midwest, so we don't miss scraping cars and bundling up every time we leave the house. Chad loves wearing shorts year-round, and Cindy loves being outdoors even at night without being eaten alive by bugs. The variety of produce and excellent ethnic food is a bonus. The downsides are probably air quality, traffic, and crime. We have ski resorts right here, but on the rare occasions that they get decent snow, they are packed. The beach is nice, but one must be patient with traffic to get there when you live in the more affordable inland areas.
SBOL: How did you into the sport of skiboarding?
CAN: I've always liked shorter skis. I started skiing at 15 in the 80s; over the years I got longer and longer until I ended up on 206 cm Olin Mark IVs. As soon as I got my hands on a pair of 150 mogul skis, I was done with the long skis. I came across a pair of Big Foots in the early 90s, rode them until I broke them, and then found some Salomon Snowblades. I then graduated to Head 94s, and on an internet search stumbled across Revel 8. My first pair of skiboards were the 2008 KTPs. This was the time I got Cindy to try the sport, and we took a trip to Winter Park. We've been buying boards ever since.
CANtoo: At 12 I remember the rope tow at Crystal Mountain in Michigan slipping through my mittens and slow, painful snowplowing. Eleven years later a friend took me to Bear Mountain. On the bunny hill I tried not to cross tips, and fell repeatedly down the one blue (full of moguls) I tried. I was done with skiing. Fast forward another thirteen or so years, and Chad somehow convinced me that the snowblades would be much more fun than skis, and he was right! Chad was a patient teacher, waiting for me at the bottom of many a hill those first few years, but luckily my speed and ability jumped miles ahead when I finally got on some real skiboards. There's no way I'll give up a sport this fun that I can do at my age until I have to!
SBOL: You have a place in Brian Head, UT. Can you tell us a little bit about the Brian Head Resort and what it's like to ski there? What about the Brian Head area made you want to buy a place there?
Brian Head has two sections: Navajo, mostly greens and blues, and Giant Steps, mostly blues with a few blacks. It is 650 acres with 1,320 vertical. The base elevation is 9,600, Utah's highest. It has 71 runs, 3 terrain parks, 2 tubing parks, and 8 lifts, and is adding a high speed quad next year. The runs are much shorter than anything at Tahoe. We like skiing there because it's low key and non-commercialized, not overrun with skiers and boarders going too fast for their own good (i.e., Mountain High). The snow is usually very light (except for the past couple warm years), and on big dump days (again, none of those recently) it's great to go off piste to do trees and find untracked powder (hopefully the new lift won't kill that!) The lift lines are always short—usually our longest wait is a couple chairs on holidays. We like the way Navajo separates out the total newbies. We actually have a place in Parowan, 12 miles and 4,000 feet lower down the hill. After looking at condos in Brian Head, we got discouraged by high winter heating costs and monthly HOA fees. Then we came across a well-kept little house in town with a walled yard, complete with an insulated dog house and fenced dog area. It was less monthly for more space (2 bed/2 bath) plus no yard maintenance ($35 HOA snow removal and cutting grass!!) and most importantly, we could take the dogs on vacation! And then there are the amazing neighbors—retirees also from Socal—whom we call our Utah parents and who watch over the place while we're away.
SBOL: What are some of your favorite places to ride? If you had to pick one place, what is your favorite and why?
CAN: Some of my favorite places to ride have been Kirkwood, Winter Park, and Brian Head. If I had to pick one, it would be Brian Head since it's easy going and I know the best spots to go depending on conditions.
CANtoo: Kirkwood is probably my favorite, and if I could live near there, I'd do it. Heavenly is beautiful. Snow Summit is actually pretty nice if it has good snow and isn't too packed. Other than that, of course I love Brian Head.
SBOL: You have both gone to Shredfest a number of times. What do you like about it and what keeps you coming back?
We went to the original Shredfest, and thankfully have been able to make it to every one since. The main draw is that it's just so great to be around so many other skiboarders with similar interests. This community has some really fun, interesting, genuinely nice people whom we look forward to seeing and meeting. It's also amazing to visit these huge, beautiful resorts and get the best possible riding experience since, instead of wandering trying to figure out what to do, Jack and Wendell know how to guide us to fun yet challenging terrain. This year we said we came back for the people, not the snow, yet despite the lack of snow, we somehow got in three solid days of great riding. We couldn't have done that without our guides. As many say here on the boards, nothing improves your skills better than riding with other skilled/experienced people.
SBOL: What do you do for a living? What about it do you like? If you could do anything for a living, what would you do and why?
We are both teachers, but on different ends of the spectrum. Chad teaches PE, and has a lot of fun at his job. Getting in there demonstrating and even playing the games with the kids keeps him active. He gets to be creative and also has his students create games. The crazy student spirit rallies he organizes for his school (see his Mello Yellow character below: that was his last day of work before this last break) are a big hit. Cindy teaches high school English, and also gets to be creative, but the larger class sizes of the past few years make a serious impact on the off hours being consumed by the paper load (luckily Chad is a good cook and grocery shopper for the evenings and weekends!). She loves the way she can really get to know her students through their writing, and gets excited when they create something good. She is now working on a librarian credential since her district has eight positions. This would allow her to still work with kids, teachers, and curriculum in her area of expertise and passion.
SBOL: If you could only pick 2 skiboards to ride the rest of your life which boards would they be and why would you choose them?
CAN: First, the RCs—with hard boots (sorry, Jack). They are my favorite do-anything all-mountain board. They can handle anything I throw at them, but if there's a two-foot dump of snow, I bring out my second favorite board, the Sherpas, to hold up my big body in the super deep.
CANtoo: I would choose the Spruce 125s and the soft ALPs (now the DLPs). The 125s can do anything and are ridiculously fun in powder. In normal conditions, though (not too icy and not too deep), that 110 length, the width, and the flex of the ALPs just suits me and gives me that feeling of skiboard freedom☺.
SBOL: If you could pick anybody – living or dead – to ride with for a day who would it be, why would you pick them and where would you want to ride at?
CAN: We're sitting right next to each other. Who else are we gonna say?
CANtoo: ditto.
SBOL: Unfortunately the winter season ends every year. What do you like to do in the offseason?
CAN: Golf, mountain bike, hike with the dogs, grill (just got a smoker last summer), skeet shoot, and practice retirement every summer.
CANtoo: In the offseason, I try to stay in shape for skiing with yoga, hiking (with the dogs or in Southern Utah's parks), swimming, and biking (mountain biking if I'm in shape for it). To me, no other sport is as fun as skiboarding, so it's a great motivator.
SBOL: Do you have a favorite skiboarding memory – something that really stands out in your mind?
CAN: Catching the one perfect powder day at Snow Valley. We waited in line for a half hour behind the ski patrol and caught the back bowl the first day it opened that season. Untracked. To top it all off, it was with free lift tickets!
CANtoo: Catching 36 inches of fresh powder at Eagle Point (half hour north of our place in Parowan) because the 24 inches they got Thursday knocked the power out and then it snowed 12 inches the next night. It was a lucky fluke where we saw it was snowing and drove the 6 hours up for the weekend. Got caught in horrible Nascar traffic on the way back, but it was worth it.
SBOL: Can you share a few of your favorite wintersports photos with us?
We are really bad about taking pictures. Here's a great powder day at Brian Head and us on the chair.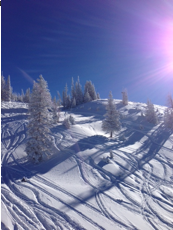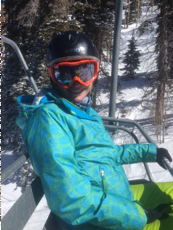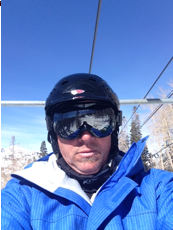 SBOL: Any final thoughts?
CAN: Do you really want to read more? Get out there and do something!
CANtoo: Hey, don't knock reading
!