Well, we are on a roll with these Featured Rider Profiles - since I live near Philadelphia that roll would be an Amoroso of course.
The Featured Rider this time: sempai. I had the pleasure of meeting him and his wife at Shredfest V - truly good people. He is a crazy fast skiboarder - I never did catch him once on many, many runs at Sierra-at-Tahoe last year. Hero to many because of his "big adventure" this winter. If you ever have a question about a skiboard - ping sempai - he has probably owned it or at least ridden it at some point.
SBOL: So Scott, what is the backstory behind your screen name of "sempai"? What does it mean?
The word "sempai" is a martial arts term. It basically means junior sensei or junior instructor. When I lived in Illinois (where I'm originally from), I studied an Okinawan style of karate called Shorei-ryu. Occasionally I would help out teaching class, and the students would refer to me as sempai. I moved from Illinois to Minnesota in '97. I pretty much gave up karate at that point and moved on to other physical activities.
SBOL: You live in the "Twin Cities" (Minneapolis/St. Paul) area in Minnesota. Can you tell us a bit about what it is like to live in your area?
Well, I've been all over the country and have lived in a few different states. Minnesota has some of the worst weather of any state I've spent time in. It's gloomy and miserably cold in the winter. Spring is typically cloudy and rainy. Summer is wet, stormy and humid. Come around late August/early September we may get lucky and have 2 – 4 weeks of decent weather. As you can tell I'm not a fan of Minnesota weather.
SBOL: The bitter cold temperatures have to be a challenge at times to ride in – what is the coldest you have been out riding in and how long did you last?
When we go riding here, it can be brutally cold. Many times they'll be wind to go along with the freezing temps. We just have to put up with it if we want to ride. I've probably ridden in –30 degrees before. I don't tolerate the cold like I used to. When I was younger, it wasn't unusual for me to open and close a hill and not come in to warm up all day. These days I won't bother to ride at all if it's below 10 degrees. Actually I'd really prefer it be above 20 degrees. I'm becoming wimpier as I grow older.
SBOL: You recently went on an epic road trip chronicled in the "Sempai's Big Adventure" thread (http://www.skiboardsonline.com/forum...ad.php?t=15142). You were on the road from Jan 21st and ended Mar 9th, drove a total of 6,104.3 miles and spent 29 days on the slopes at 21 different mountains in 4 states. Quite a trip. You are a hero to a lot of people who dream of doing a trip like this. What was your motivation for the trip?
I had several motivations. The first one is that I long to ride on actual mountains every winter instead of hills. I used to live in Flagstaff, AZ. I had a great ski mountain (AZ Snowbowl) not more than a half hour away, and I was only a few hours away from other great mountains in Arizona, Colorado, and Utah. I miss that terribly. Another motivation was an opportunity to visit resorts that I've wanted to visit for a long time but never got around to visiting. Taking the trip also allowed me a break from a job that I despise and a way out of spending another awful record-breaking winter in Minnesota.
SBOL: What was the highlight of the trip for you?
That is so hard to answer. There were many highlights. Getting together with the Shredfest gang again pops into my head first. Meeting new people for the first time, like Bad Wolf and his wife, Raymond and Michelle who were at the Utah Powdown. Then there was all the incredible riding I did, and the awesome terrain that I experienced.
SBOL: If you did this trip again next year, what would you do differently?
The trip went very smoothly considering all that was involved. It took a lot of planning. I think the only thing I would do differently is leave a week earlier and hit the Colorado resorts first. It would be nice to have Shredfest be the closer. I rode so hard in Tahoe and was so tapped out from Jack's Challenges that I ran out of gas by the time I reached Colorado.
SBOL: What resorts were your favorites and why?
I would say that my favorite resorts in order are Brighton, Monarch, Kirkwood, Powderhorn, and Solitude. I prefer the less crowded old-school resorts over the commercialized monstrosities. I don't care about shopping, fine dining, massages, or any other activity offered. I go to the mountain to shred. That's it. By the way not one of these places have a gondola. You just drive in, park, and walk up to catch the lift. That's my kind of mountain.
SBOL: How did you get into the sport of skiboarding?
I've told this story a couple times in threads on the forum. Mrs. Sempai and I were skiing with another couple at Trollhaugen in Wisconsin back during the '98/'99 season. Both of them were on a pair of rented Salomon Snowblades. They were having a blast while we were struggling with our skis. The couple convinced us to put our skis away and rent snowblades. We did. It was love at first ride. I went out the next day to the sporting goods store and bought us two pair of Salomon Buzz Snowblades. We rode the Salomons for five years before learning about skiboards. I first found skiboards.com and then SBOL a couple years later. I've been buying, riding, and selling skiboards ever since. I've owned, ridden, and sold over three dozen pairs.
SBOL: What keeps you involved in the sport?
I love it! It's one of the few things I truly enjoy in life. I get bored with most things after time. I never get tired of skiboarding. I would ride every day if possible.
SBOL: What resort(s) do you consider your "home" mountain? Can you tell us a little bit about these?
I guess I'd have to say Afton Alps and/or Welch Village. They're actually hills and not mountains. They are small, crowded on the weekends, and you're down the run in 30 seconds or less. Afton has a vertical of 350 ft. and Welch 360 ft. Aren't you jealous? LOL
SBOL: How many times have you gone to Shredfest? What about it keeps you coming back?
This was only my second time. I wish I had attended sooner. It's the best time I have all year. The Tahoe resorts are spectacular. The weather is amazing. The people are wonderful. Being able to ride with so many other skiboarders is an incredible treat. Thanks to others I'm pushed beyond my normal limits, and that makes me a better rider.
SBOL: If you could only pick 2 skiboards to ride the rest of your life which boards would they be and why would you choose them?
If you had asked me that before my trip, I wouldn't have been able to answer. Now I can say without a doubt it would be the Rockered Condors and secondly the stiffer regular Condors. The RCs allowed me to conquer tougher terrain on this trip than I have ever attempted to tackle before. The RCs also have a playfulness about them that no other boards above 100 cm have. The regular Condors handle hardpack and crud with stability and finesse. They also allow me to safely go fast when I have the need for speed.
SBOL: If you could have 1 set of custom skiboards designed what ride characteristics would you be trying to achieve and what do you think the specs on the boards would be?
I'm not an engineer and have no technical knowledge of such things like some riders out there. You know who I mean (Slow). ☺ I buy boards, ride them, and hope for the best. With that said, I would really like to see a 99 – 100 cm version of the Blunts get made. I think it could turn out to be something with the nimbleness of the Blunts and the float of the RCs.
SBOL: If you could pick anybody – living or dead – to ride with for a day who would it be, why would you pick them and where would you want to ride at?
Really? This question could get me into big trouble. I'll go down the safe road and say Mrs. Sempai. We really don't get to ride that much together. She's somewhat of a workaholic. I wish she would have been with me on my trip to experience all the great places I visited. We were both at Shredfest, but we didn't ride together much because I was off partaking in Jack's Challenges every day.
SBOL: What do you like to do in the offseason?
I used to be an exercise fanatic who suffered from Bloomidis (an addiction to running). ☺ I was cured about eight years ago.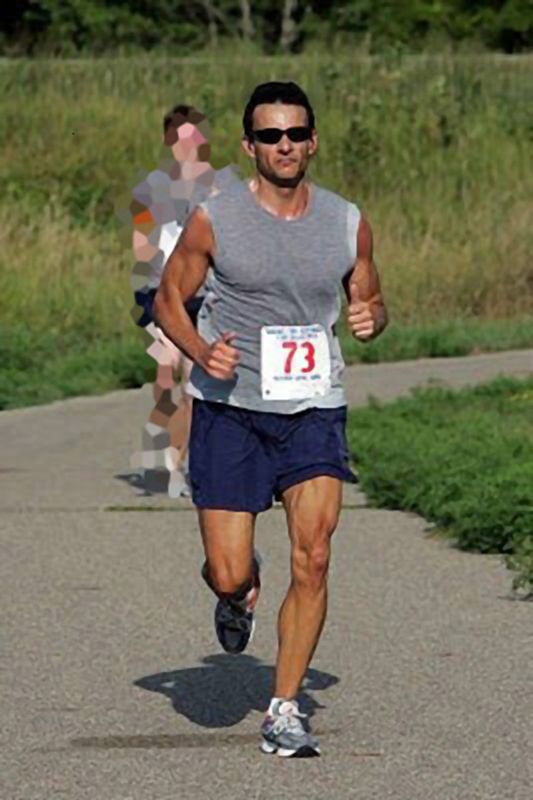 I have been a skater all my life, roller and recreational inline. I still skate when I can. When I lived in AZ, I was very much into mountain biking and hiking. I'd love to get back into that, if I ever end up back living in the West. One thing I have been doing a lot of over the past couple of summers is riding my ElliptiGO. It's a standing bike.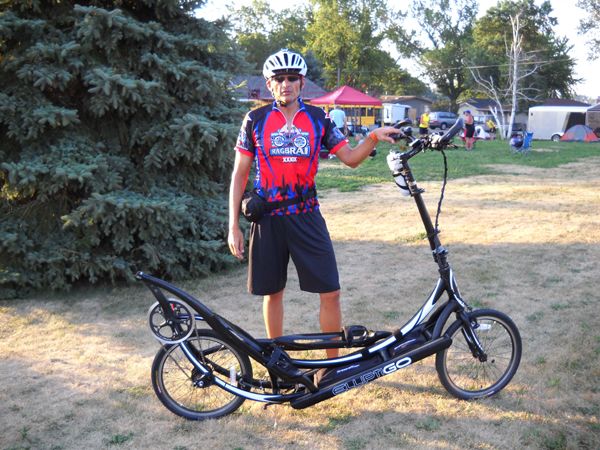 If you aren't familiar with it, it was invented by an injured former long-distance runner and an engineer who wanted a way to keep running but with little to no impact. Check the Mrs. and I out on our GOs here:
https://www.youtube.com/watch?v=-5fEHxMR4f0
and just me here:
https://www.youtube.com/watch?v=Xq4QQ_ciNZY
.
SBOL: What is the craziest thing you have ever done on skiboards?
The craziest thing recently would be Jack's Challenges. Back in the day when I thought I was invincible, I used to jump off of everything. These days I have a fear of pain and more surgeries.
SBOL: Can you share a few of your favorite wintersports photos with us?
Sure. This was at Durango Mountain a few years back. We got dumped on there. I was riding what was my go-to boards at the time the "Spruce 120s".
Perfectly groomed corduroy at Brian Head, Utah in '07.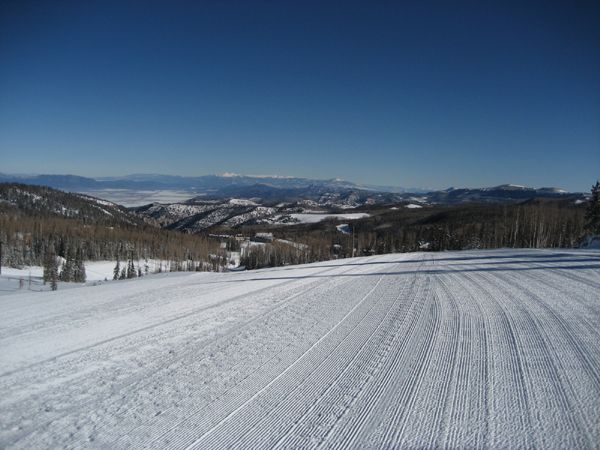 I have my own chair at Alpine Meadows.
SBOL: Any final thoughts?
If you are a member of this forum, you're a member of the greatest online community in existence. This year I wanted to go on a great skiboarding adventure, so I did. I didn't wait until I retired or was more financially secure. I made it happen now before it was too late. Don't put off what you want to do today until tomorrow. Tomorrow may never come. I know that sounds cliché, but it's true.