The Featured Rider profile push continues with Bad Wolf the subject this time. Bad Wolf hasn't been around the forum that long but he has made a lot of contributions. He joined in September 2012 and has over 1,300 posts so far! And I thought I had a lot to say…
His enthusiasm for skiboarding is infectious, he doesn't act his age pushing himself on skiboards and other pursuits (like in the skate park with his kids) and he is not afraid to wear a cape in public!
Thanks for agreeing to be profiled and for being a strong member of this community.
SBOL: We know your real name is Paul. Can you tell us what is behind the screen name "Bad Wolf"? Why did you pick it?
"Bad Wolf" is a reference from the British science fiction show Dr. Who. I grew up watching the show in the sixties and seventies with my Dad. It was so scary kids would hide behind the couch to watch the show. It still has some pretty creepy stories lines and monsters. My youngest daughter freaks out and leaves the room when the "Weeping Angels" are on. I sometimes regret choosing the name because of the negative impression it gives to those who don't get the reference. Hopefully they work out I'm not so "bad" after all.
SBOL: You live outside of Phoenix, Arizona. Can you tell us a bit about what it is like to live in your area? Do you ever get used to the hot summer temperatures there?
My wife and I moved to Arizona in 1999 to raise our kids. It's 115 in the shade, but it's a dry heat; that means no mosquitoes, I can live with that. Despite the heat we have a great selection of year round outdoor activities; golf, skiing, boating, hiking, hang gliding, hot air balloons, swimming, rafting and biking, to name a few. Apart from the classic cactus strewn desert, we also have lakes, mountains and pine forests. And The Grand Canyon of course.
When we first moved here it was one of the fastest growing areas in the country. New communities were popping up like weeds in the desert. Things have slowed down now but we still have plenty of new schools, hospitals, parks, restaurants and shopping areas. It's a great place to raise a family.
SBOL: How did you get into the sport of skiboarding? What keeps you involved in the sport?
I had skied a little as a kid in Europe, but never as an adult. We used to take week long skiing vacations to Bulgaria because it was cheaper than the Alps. I drifted away from the sport as an adult and didn't ski again for thirty years.
In Arizona my wife would ski on the weekends whilst I stayed home to golf. Once the kids started to ski too, I was getting left out on fun weekend trips to the mountains. I was just coming off a serious knee injury, so my wife suggested I try shorter skis, which led me to skiboards. Skiing has now become a family sport for us. It also came at a time when I was retiring from competitive martial arts and looking for a new pastime. Golf in the summer, skiing in the winter, life is good.
SBOL: What resort(s) do you consider your "home" mountain? Can you tell us a little bit about these?
There are two main resorts in Arizona. Last year we went to Sunrise Ski Resort in the White Mountains. It's a huge resort run by the Apaches, spread over three peaks, with some great steep terrain and the best bean burritos in Arizona. The downside is the four hour drive and there are too many flats connecting the steeps. You can ski the resort all day and not hit the same run twice.
This year we went to Arizona Snowbowl in Flagstaff. It has a better park set up for the kids and comprehensive snow making, they say it's recycled pee but it skis well. It also has some of the best glades anywhere. There is only one lift to the top of the mountain, so the lift lines can be long. Great bump runs too. It is a little small and even though the terrain is great you find yourself repeating the same runs.
Both resorts get great powder days when is snows but could use faster lifts. The season is fairly short and the snow suffers from melt/refreeze cycles with our warm temps, but not too bad for the desert. VLT 7% and sunscreen required.
SBOL: What are some of your favorite places to ride? If you had to pick one place, what is your favorite and why?
There are many places I have yet to visit, Colorado and Canada for starters, so my choices are limited. I really like UT for snow, terrain, variety, lodging, transportation and cost. Brighton Resort has a great laid back, old school vibe with plenty of great runs and trees. Can't wait for next year's Powdown; we're going to the Cottonwoods!!!
The most memorable run I ever took was skiing down a bobsled track at a resort in Bulgaria. There was no way to turn or slow down, once you started you just had to hang on till the end. They only let you ski it after a storm, once it got icy it was too dangerous,
The best looking place that I've never been to, but want to, is Mount Bohemia. Powder and trees! It's a fourteen hour trip from Phoenix, but I'll make it one day.
SBOL: You were at Powdown and Shredfest this year – what did you think of the events? Which resort was your favorite?
I attended the Powdown and my wife and I went to Shredfest together. Everyone was so welcoming and fun to ride with. We are such a diverse group of people who share a common sport. Riding with other skiboarders is also a shortcut to improvement, especially when you try terrain you may not normally, great fun.
I think The Canyons gave us the best snow and terrain for the Powdown and The Three Sisters Chutes at Sugarbowl was the highlight of Shredfest for me. It was a shame that this year was so light on snow. I would have loved to have experienced the Park City and Tahoe resorts under a blanket of powder, maybe next year.
SBOL: If you could only pick 2 skiboards to ride the rest of your life which boards would they be and why would you choose them?

Just one, the Blunts, was that a trick question? They have become my go to boards for all situations. Everything else is gathering dust in the garage. I have so much confidence on them and they seem to bring out the best in my skiing. Maybe the new Blunt XLs for next year……
SBOL: If you could pick anybody – living or dead – to ride with for a day who would it be, why would you pick them and where would you want to ride at?
My wife, anywhere she chooses.
SBOL: You seem pretty adventurous - what do you like to do in the offseason?
Skiboarding has really brought out the "adventurous" in me. Just last season there were blue runs at Sunrise I was too timid to go down. I remember being at Snowbird and following the "Easy Way Down" signs whilst my wife took the expert route. Now I just throw myself down anything that comes along. I'm not saying I ski it with style, I just have the confidence to tackle any terrain now without fear. The transformation has only happened through skiboarding.
My knees forced me to give up competitive martial arts last year, so I took to inline park skating with Enouf this summer. I survived the initial round of bumps and bruises to get some pretty good balance by the end of the season. Whatever my kids do, I join in, I'm not one to sit on the sidelines. I really want to start getting some jumps and grinds down in the park (skates and skiboards), but given my age and injury record, I'm not sure how smart this is, but…..YOLO, as the kids say.
SBOL: Do you have a favorite skiboarding memory – something that really stands out in your mind?
I got to spend some quality time in conversation with Jeff Singer at Shredfest. We sat on the balcony at Alpine Meadows as the sun went down and talked about the sport; the past, the future, design, manufacture and technique. What an amazing ambassador to the sport he is; a gentleman and a scholar.
And Jack's challenges, to boldly go where no skiboarder has gone before.
SBOL: Can you share a few of your favorite wintersports photos with us
My wife and I at Donner Pass, Shredfest 2014.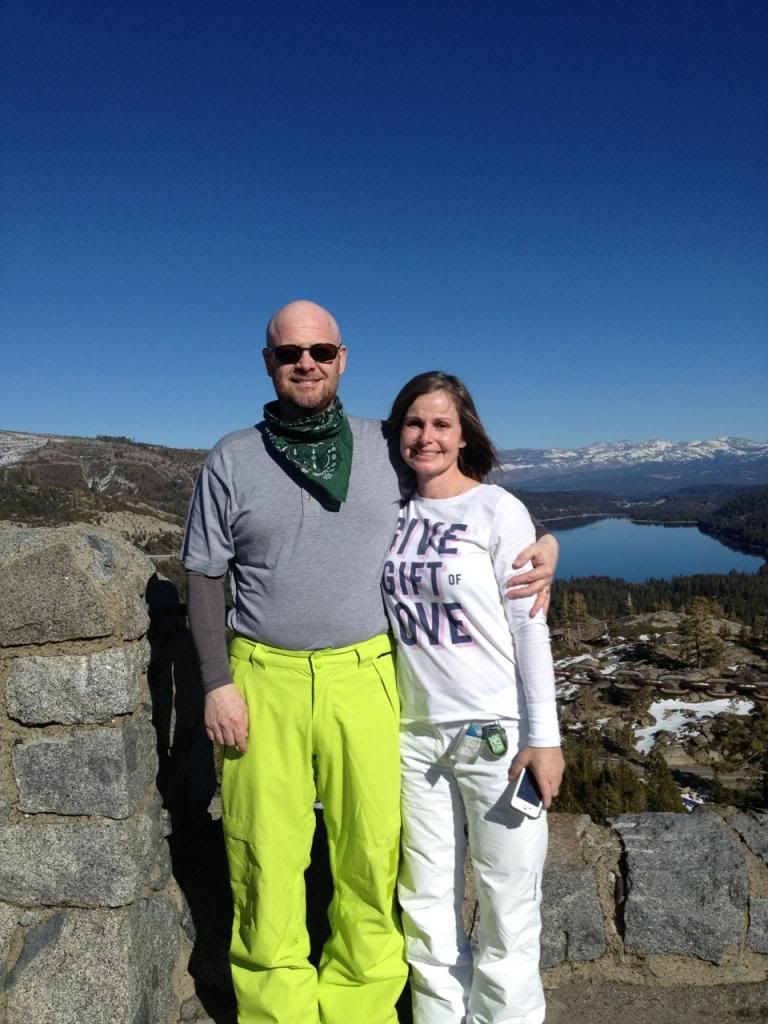 Alpine Meadows, Lake Tahoe, Shredfest 2014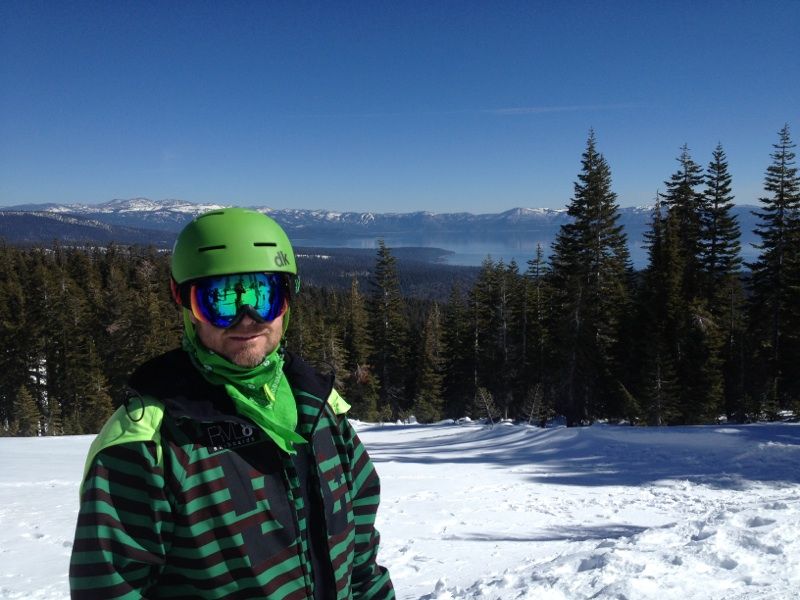 The Three Sisters Chutes, part of Jack's Challenge, Sugarbowl 2014. I never thought I could do anything like this. From greens to chutes in a season, skiboards rule!
The secret to my success.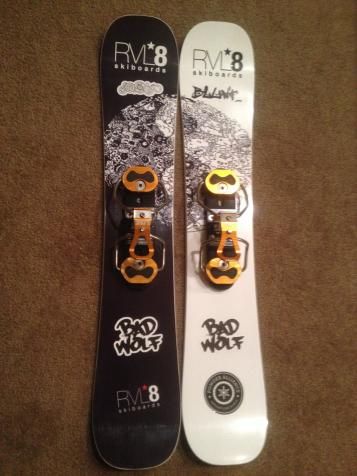 Carving at PCMR, Powdown 2014
The Caped Crusaders!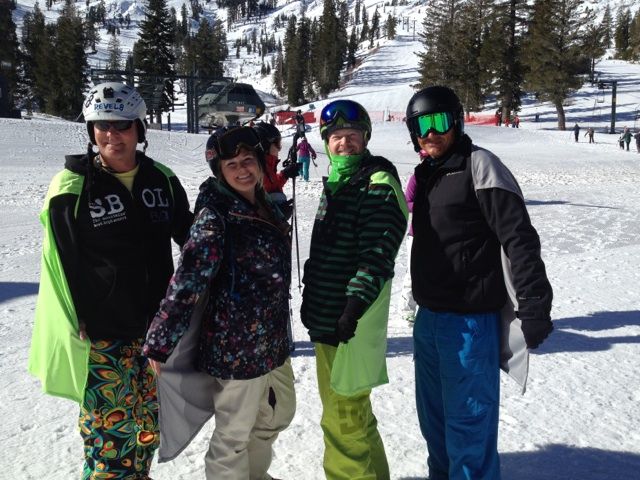 SBOL: Any final thoughts?
I really enjoy SBOL as an online forum, even more so now that I have met and ridden with many of the members. For an online community, we have uniquely good natured, helpful and considerate atmosphere. Forums like ours are vital to the ongoing health of the sport and our enthusiasm is projected to those who visit our site for information. The more we post, the more search hits we get from places like Google; that means more traffic to RVL8. We really can influence the success of our sport by being involved in the community. We have many interested guests on the forum that read our opinions as part of their research of new products to buy.
I realize that we are a seasonal sport and that the concentration of the posts center around event organization, but I would like to see more members choosing SBOL as a place to visit with friends, any time of year. Photos, reviews, trip reports, hints, tips, experiences, opinions and thoughts are all more welcome than you imagine. Sempai's Great Adventure thread was a wonderful example of this.
Stay thirsty my friends, and post!
Paul.