Yesterday my son Jordan and buddy Jeff and I went on a great multi sport adventure . I did this years ago
by myself
but this time wanted to make it bit easier for all of us by renting an e bike to use as a sag wagon !
Lassen national park has plowed the entire park road to the Summit parking lot where the trail to Lassen Peak begins but only allows hiking or biking the trail for now . The road will open to motorized vehicles in the next week or two. They do allow e bikes.
I offered to rent an ebike and trailer and haul all the ski equipment up the road so the other two guys could just ride their bikes without having to carry any equipment. It still is formidable bike ride 6 miles and 1500 vertical feet from the road closure area at Sulphur Springs to the summit trailhead parking lot.
Here is my rental e bike with most of our gear and skiboards (Jeff has Sherpas and I have Condors). Jordan's Icelantic Scouts are strapped crosswise on the rear luggage rack of the rental e bike.
Thanks to Jordan who took most of the pictures and video.
Here is a picture of the loaded bike with Lassen Peak, our destination , in the distance.
IMG_20210516_081543845
by
Jack Jue Jr
, on Flickr
Here I am riding up the road on the e bike . The bike had plenty of power and torque for hauling but I had to use maximum electric assist and did notice that the power meter was draining pretty fast , hope the bike can have enough juice to make it to the top!
IMG_1310
by
Jack Jue Jr
, on Flickr
Here are Jeff and Jordan riding their regular mountain bikes up the road.
IMG_20210516_081730416_2
by
Jack Jue Jr
, on Flickr
Jeff and I did trade off piloting the e bike and riding the regular mountain bike while Jordan road a regular mountain bike all the way up .
IMG_1313
by
Jack Jue Jr
, on Flickr
Beautiful scenery along the road which is super nice without any cars and very few other bikes.
IMG_1314
by
Jack Jue Jr
, on Flickr
Luckily we have enough power on the e bike battery to make it to within 50 yards of the parking lot and just push the bike and trailer up the rest of the way!!
After we reach the parking lot we lock up our bkes and load our ski gear on our back and hike the first mile or so up a steep hill over a partial snow and dirt trail . We then reach the snow field and begin skinning up the slope on our skis . Eventually however we run out of snow on the ridge line and the rest of the way up will be carrying skis and boots and heavy pack all the way to the top/ I decide to forgo that part of the trip this year as I am feeling pretty pooped out and decide to ski down a short bit and find a nice flat place to have lunch and take a nap while the other two guys climb to top and ski down to my lunch spot.
Here is picture of Jeff climbing up the rocky dry section . We started at the highway visible below!
IMG_1332
by
Jack Jue Jr
, on Flickr
Jeff on the trail loaded up with all his gear on his pack and hiking in trail running shoes! You can see why I decided not to do this !!
IMG_1331
by
Jack Jue Jr
, on Flickr
Jordan at the Summit!
IMG_1337
by
Jack Jue Jr
, on Flickr
Jeff at the Summit
IMG_1341
by
Jack Jue Jr
, on Flickr
Jeff beginning his descent off the summit.
IMG_1350
by
Jack Jue Jr
, on Flickr
Here is a video of Jeff descending .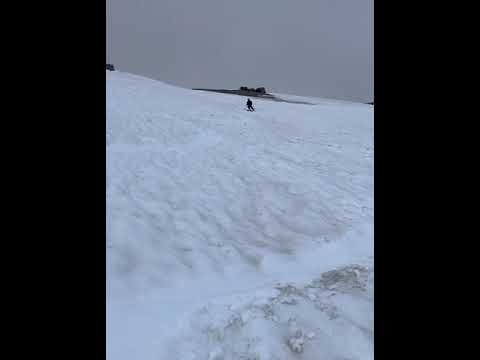 Jeff on his way down
IMG_1352
by
Jack Jue Jr
, on Flickr
After a great descent we are at the parking lot ready to get on the bikes . I am worried about carrying all the weight down in the trailer without any power left as there are a couple of flatish sections where I will have to pedal a little , otherwise it is a fast descent with no pedaling at all . I have both guys carry all their own gear down. Jeff just straps all his stuff to his pack like he does in the hiking pictures above and rides down that way. Jordan decides to carry his skis strapped to his bike while carrying his boots strapped to his pack on his back .
[
IMG_1357
by
Jack Jue Jr
, on Flickr
A beautiful and easy ride down the steep road to where our car is parked.
IMG_1360
by
Jack Jue Jr
, on Flickr
What an adventure ! A fitting end to the ski and skiboard season is in the books!