As many of you know my buddies and I often ski at Lassen National Park when the road to the summit parking lot opens to allow access to Lassen Peak . This year the park opened the park road to bicycles and pedestrians for a vehicle free weekend the weekend before opening the road to vehicles for Memorial Day. I thought this would be an excellent reason to try a bike assisted ascent of Lassen Peak . This involves bicycling from the Visitor center at 6700 feet to the Lassen peak summit parking lot at 8500 feet , a distance of 7 miles , with a 1800 vertical gain carrying all your ski equipment on your back , then leaving the bike in the parking lot and climbing the peak which tops out at close to 10,500 feet or 2000 feet elevation gain . Total elevation gain of 3800 vertical and then getting it all back , skiboarding from the summit ,and then loading all the equipment on your back and doing a screaming 7 mile downhill descent back to the visitor center with no cars on the park road. Couldn't round up any of my buddies .. so did it solo . I did not break any speed records in this adventure ... but I had a great time . The key was just taking my time and not pushing it too hard. I stayed overnight in Red Bluff so I could get a sunrise start at 600am . I was the first bicyclist on the road . 4 guys camped out in the parking lot and were also going to bike up with their ski equipment but they left about 45 minutes after I did ... three guys on split boards and one guy with long skis.
I round the bend in the deserted road and the distant Lassen Peak comes in to view . I plan to bicycle up there and then hike to the summit ! will I make it?????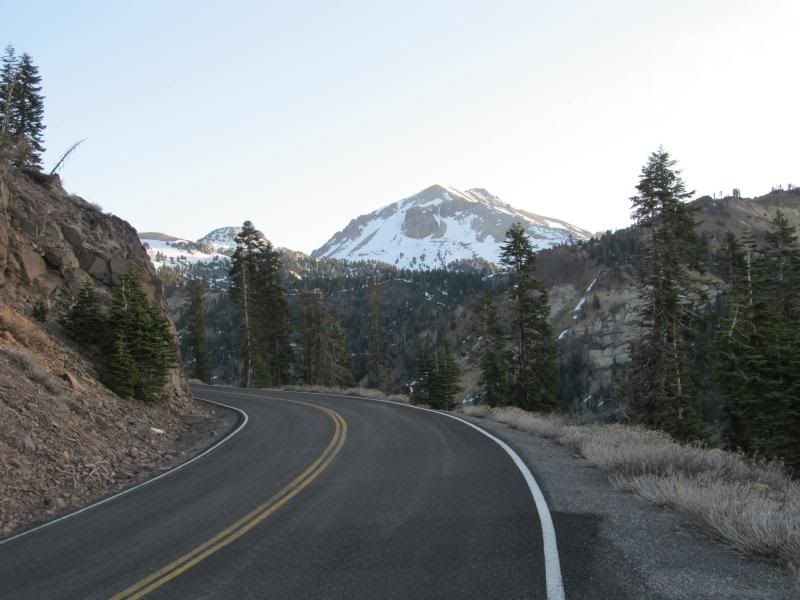 Reach the snow line finally and the morning sun breaks out ..... lots of switch backs here . I am in my lowest 3 gears on my mountain bike , with most of the time spent in the lowest gear ... I guess I am really averaging only 3miles an hour or so and take a few rest breaks along the way , getting my pack off my back .. but basically the effort does not seem to extreme and I am able to enjoy the views. I am bicycling in my DC Gizmo snowboard boots which feel really like tennis shoes just a bit bigger and do well as a mountain bike shoe
I have a camel back with water and lots of power bars and my Rockered Condors are happy on my pack .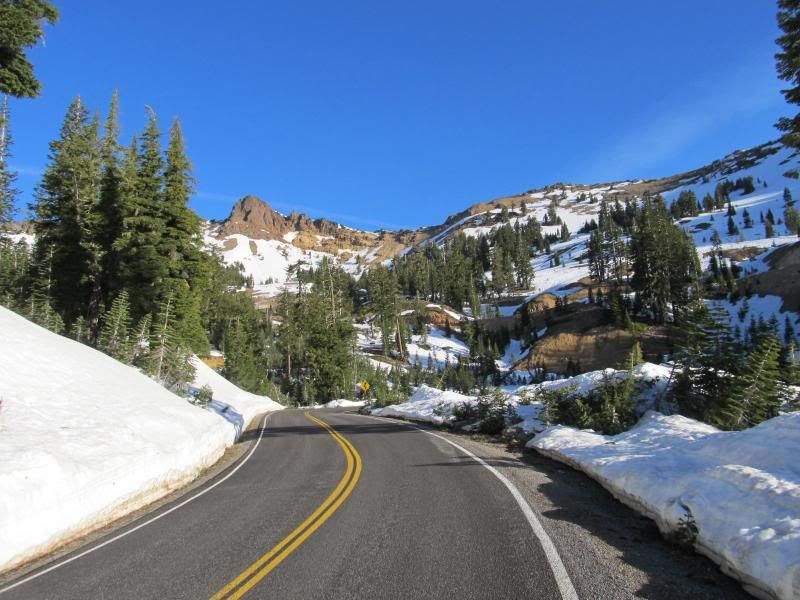 I am finally getting near my destination ... This is Lake Helen with Lassen peak behind it . The sign says thin ice.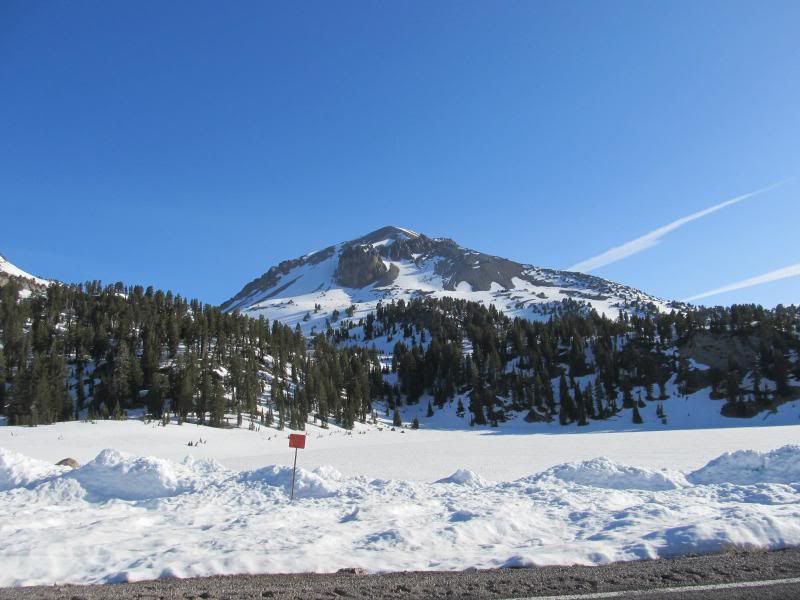 Heading up the final stretch of road with Lassen Peak looming ahead .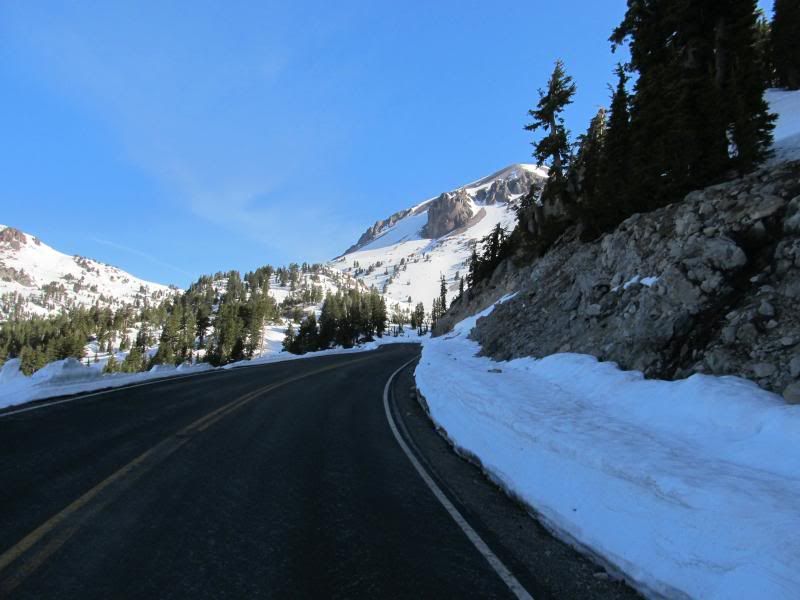 And Lake Helen now left down below....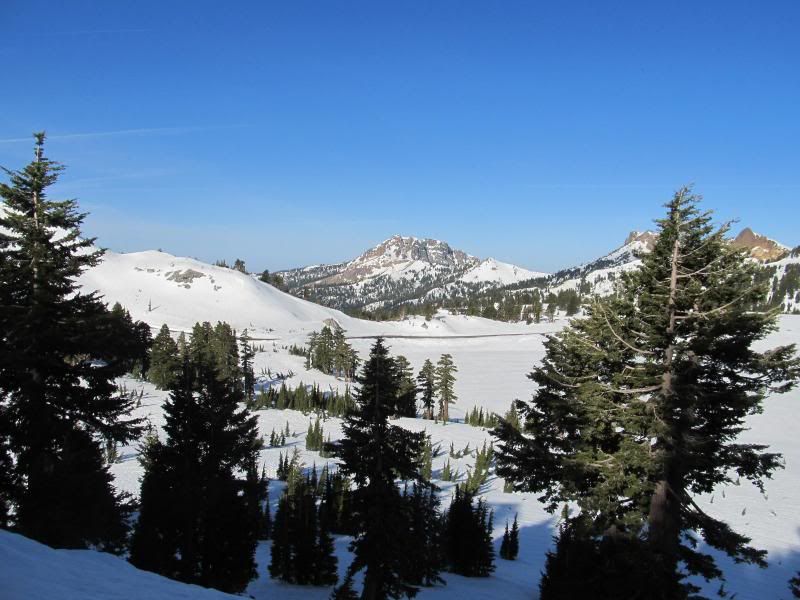 Lassen comes in to full view ... my goal is the summit ! The sign warns bicyclist of ice on the road
I finally reach the trailhead to Lassen Peak . at 815 am . 2hours and 15 minutes for the bicycle climb fully loaded with my ski equipment . Well conditioned roadies riding road bikes with no packs do the 7 miles in 40minutes. The four snowboarders and skiers who left after me arrived shortly after I did .. and the bicycle ascent in about an hour and half . The park service has supplied water for bicyclists to resupply their water bottles. I take advantage of the water to refill my camel back for the ascent .
Here is my gear as I make my transition from bicyclist to skiboarder. The other guys are quite interested in my unusual backcountry rig- RC's with snowboard bindings , ski crampons , skins and snowboard boots. !
Starting up Lassen Peak
I see a group of skiers behind me , who are they ? turns out they are a group with nordic ski patrol who the park service allowed to drive their cars up instead of bike up . They are fresh and not tired out like me .. .and soon are ahead of me ...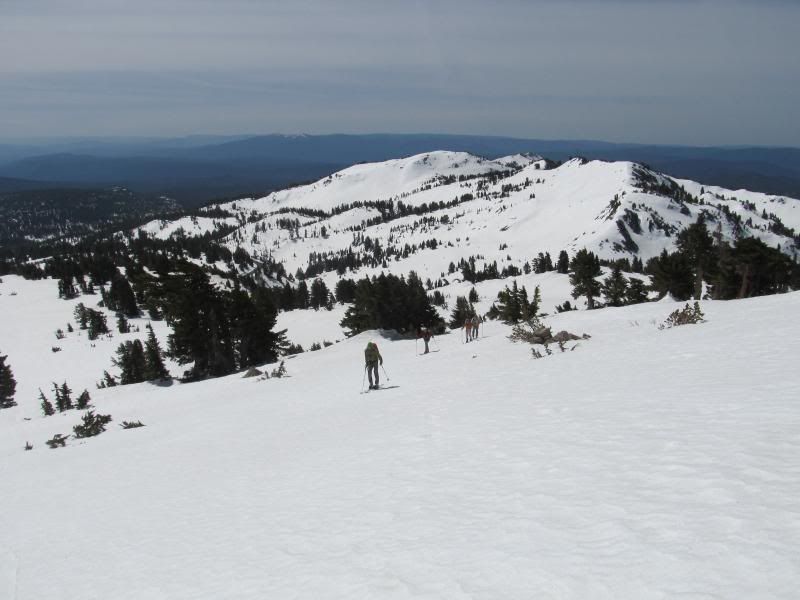 I told them I am happy to see them here in case I get into any trouble
!
One of them kindly snaps my picture. The Rockered Condors are equipped with climbing skins and the SBOL modified snowboard bindings which I am using in backcountry mode with ski crampons attached to the supplied extra inserts on the RC. See
this thread
for an explanation on how I use the binding for climbing .
IMG_0911_zpscbee8428
by
Jack Jue Jr
, on FlickrL]
View up toward the summit of Lassen peak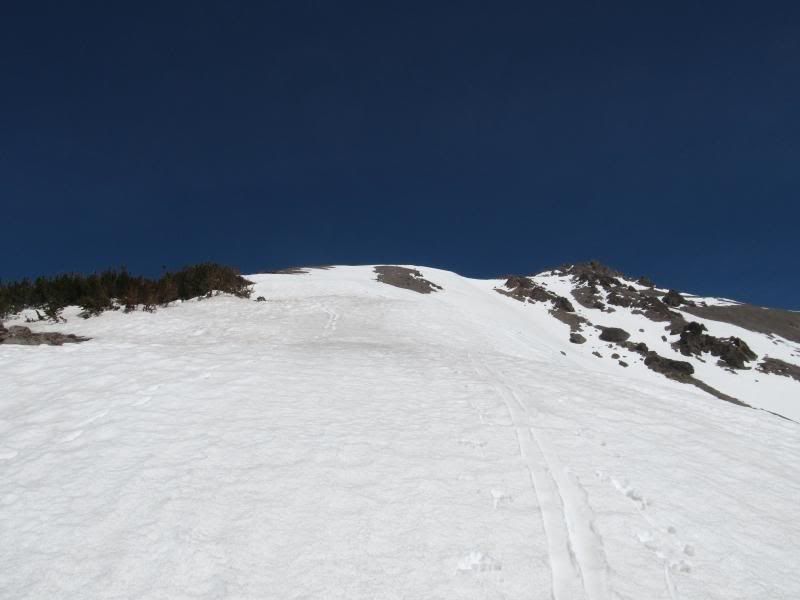 View of the surrounding peaks and lake far below from the ascent ridge ..
As usual the last part of the ascent is on dry trail carrying my RC's on my back . I love hiking in snowboard boots rather then heavy ski boots ! Notice the parking lot way , way down there . that is where I began the climb and left my bicycle.
Ok finally at the summit . It is 200pm , I left the parking lot at 900 Am An ascent that usually takes me 3-4 hours has taken me a full 5 hours. I am very slow at top feeling dead tired. The bicycle approach did take a lot out of me and I have to stop every few steps to get my breath .
This is a view of the rocky pinnacle of Lassen Peak and the explanatory signs that the Park service has installed at the summit .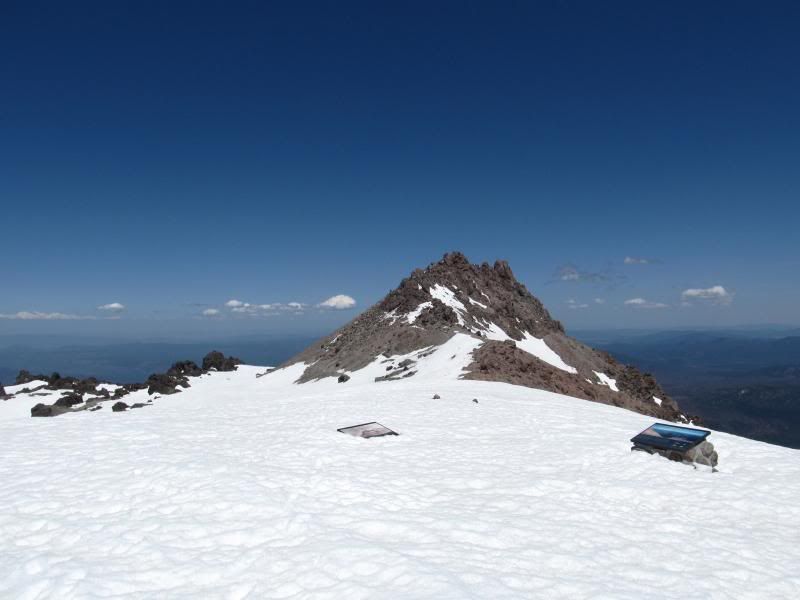 This is the view of the caldera of the volcano where it last erupted.
And here are my trusty RC's on my pack at the Summit. The nice Osprey pack allows me to stow them nicely on either side which is great for carrying them hiking and for bicycling. .. Both ski poles including the ice ax tipped pole are three sectional collapsible poles which I stow on the sides of the pack with the RC's for bicycling .
Time to put them on and get on with the big time descent I have been waiting for all day . I am dropping the big Southeast face of Lassen directly in front of the sign ..
Obligatory summit selfie !
It is windy and cold up here , good thing because even at 230pm when I begin my descent the snow is absolutely perfect ,
Sorry no pictures of my descent . I was hell bent on just dropping the big slope continuously and then transitioning to my bike and heading down . Amazingly my ski descent and then lesiurely transition back to my bicycle mode and then screaming 7 mile non stop downhill descent back to the park visitor center took a mere 1 hour and I was enjoying a beer and chili beans at the visitor center at 330pm !!! I rested and my energy returned on that nice continuous and perfect 3800 vertical combined skiboard and bike descent ...... A perfect end to the backcountry season .