As a long time skier , I have come to understand that we skiers have a hard time learning how to skiboard properly and that those of you who come to skiboarding from skating or snowboarding backgrounds have it easier.
Properly skiboarding sometimes involves unlearning a number of counterproductive skills that we use when skiing and learning new skils .
As skiers we tend to be set back on narrow long skis , we tend to have our skis flatter and turn by using poles unweighting our skis and then sharply edging our skis to slow down which often involves a bit of a slide as well , all of this more from the rear of the ski ..
Here is a pic of this technique ...
Skiboarding is all about having both of our edges right up on edge with extreme (for skiers ) edge angles.. because of the nature of skiboards it is much easier to get these edge angles at slower speeds then long skis . Ski racers on long skis get the same kind of edge angles but need to be going alot faster and most of us skiers on our long skis do not acheive the edge angles that most skiboarders obtain routinely on their boards.
BUT it does take skiers a bit of time to get it right on skiboards and if we skiers try to SKI our skiboards with flatter boards and do not get our boards over we cannot acheive proper edge control on firm snow with our boards . I have found that by by riding center mount and throwing away my poles and getting the feel of this type of turn on shorter skiboards like my KTP 101 has helped me immensely in skiboarding my longboards properly.
You can ski longboard skiboards from the back seat with poles with flatter edge angles and get them down the slope but you absolutely will lose out on the performance that is inherent in these skiboards .
I learned this this weekend myself as I was riding my Sherpa like Skafreak rides his . There are different styles in riding our skiboards , you can be lower to the board or higher on the boards . the boards can be closer together or further apart but the edge angles are the same . Proper performance skiboarding involves riding centered on a widebodied fat twin tip short board and immediately tipping both edges right up on edge and moving smoothly from edge to edge without lingering in the flat phase that most of us skiers tend to do . It is important to get this right and feel the edges engage and smoothly go from carve to carve . I am a slow learner myself , because , as an "expert "skier . I THOUGHT I Knew how skiboards should work . I actually didn't know at all how to do it correctly and it is only now after a few seasons of beating around the bush that I have finally GOTTEN it .. it is like a light bulb going off in my head and it is the most important skill for skiers to learn to really GET into true performance skiboarding and NOT just skiing skiboards like skis .
Here is a couple of pics of guys who have it exactly right , two very diferent styles , both guys on the same Sherpa 130's centered and poleless relaxed ,skiboarding ,with both edges right up on carve .
First Skafreak in the world famous SBOL , revel 8 style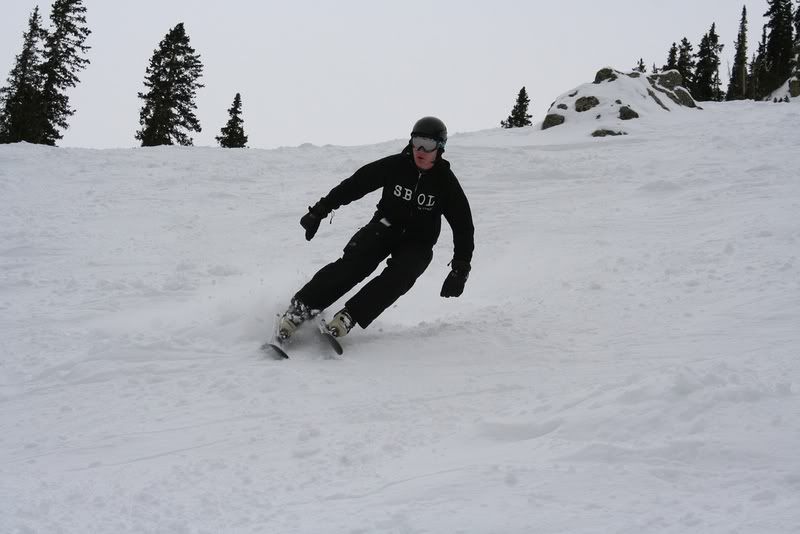 Next a pic of rider Dan Curren in a more upright , boards together style ( thanks Jeff for sharing that pic , it is great !!)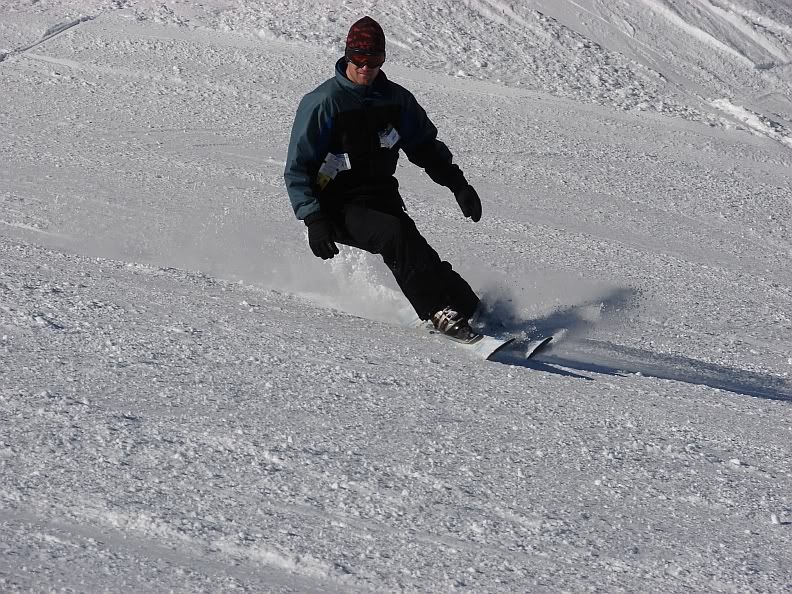 Look at the edge angles of the boards , these are edge angles that skiers usually only obtain at high speeds, all of us skiboarders are getting these edge angles routinely on our skiboards . It is right there waiting for us to use , BUT we need to start out centered and poleless to really GET it right .. later we might want to move our bindings back a bit in deep pow so we don't have to work so hard ... but it IS ESSENTIAL to first start out centered and poleless to really understand how skiboards should be ridden and how they work best . I , like a lot of skiers , have been pretty lame about this and not understanding that skiboards really are a different tool then skis . They look like skis but riding them DOES require learning some different skills , once you do a huge performance envelope opens up and skiboards that you might have thought were only short "easier "skis become the stuff of dreams , truly complex , high performance all mountain tools with heavy MAGIC , you will NEVER , EVER want to step on a pair of skis again !