Here's the goods from the 60,000 ft day: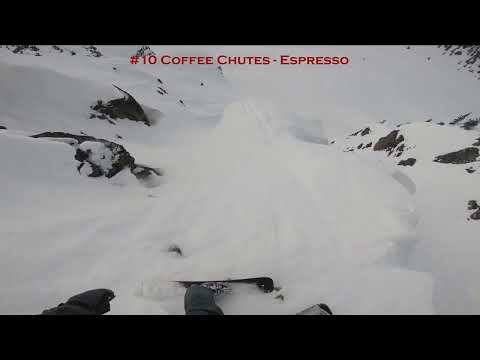 The camera doesn't do justice to some of the lines... watch the acceleration rate on the ride-out of #3, #9 and #10 in particular. And yeah, I cherry picked the heck out of the clips! It took a full minute to climb my way into the shelf that Glory Hole is located on, and another 1:30 to carefully ease into that starting position. Didn't look too good from where I dropped, but I was too lazy to climb back out of it.
Most of the names are either official run names or patrol names; I got my hands on a laminated set of the patrollers' mountain atlas cards part way through the season, with the explicit warning that just because it's got a name it doesn't mean it's a rideable line (some are just places to throw explosives for avy control). But hey, you gotta check, right?!
What a day... the culmination of best season I've ever ridden. Playmakers rule.
​