Too lazy to edit, so here's a rough cut of Jan 6, 2021 at the Horse... pretty much how the day went down, in order. Another average skiboard session. Camera angle was too low for the first couple of runs, so you get to see my 'style'. Not too many style points when you're going full stonk! Video's all at normal speed, in case you were wondering. I've been asked.
Didn't add music but it pairs well with Ministry - Jesus Built My Hotrod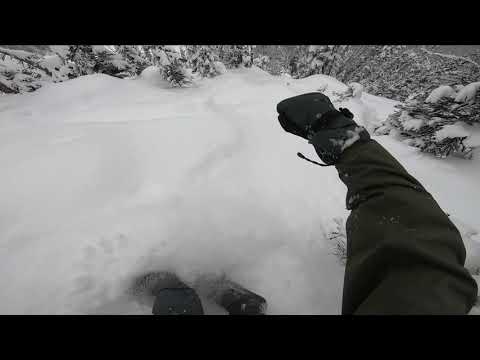 Boss made me work the last Saturday of the holidays, so I got to play some Wednesday powder hooky. 7 cm of fresh over another 50 cm in the last couple of days. I love big powder dumps, but this may actually be my favorite conditions. Super soft if you eat it, but firm enough underneath to float and not worry about burying the tips off a drop. Lots of fun little pops and drops, and good glade riding.... reminded me a bit of Whitewater.
The hikes weren't open, but Stairway laps were sweet and the chair was pretty much ski-on. Broke the seal on B4 a bit before noon for some fresh, steep and sweet shots.
There's a couple of swears near 4:40, dude's never seen a skiboarder before I guess. Welcome to Kicking Horse! Finished up at the treehouse.
Knees are a little sore today, not sure why??