I thought my skiboard season was done on July 4th , a month ago ! But there has been a flurry of activity behind the scenes in developing a drop in touring binding add on part for the Revel8 Receptor Binding . Master designer , Slow , has come up with a new improved prototype and sent it off to me for garage testing and maybe dry land testing climbing on grassy hills . Hell , that is lame , I thought .. we need snow !!!! I suggested to my wife and son that this might be an excellent weekend to fly to Portland Oregon and go visit the University of Oregon in Eugene .. . My son is a senior in high school and is interested in that college. Of course, we would then have time to go to Timberline at Mt .Hood just a short drive from Portland that still has lift served skiing and riding 730am to 130pm daily.. That idea was quickly nixed , however, as the airline flights are too expensive. So I had to go to Plan B .. the tahoe " glacier" at Alpine meadows - a persistent patch of snow high on the mountain that I visited several summers ago ! Unfortunately , Alpine Meadows web cam is usually pointing directly into the sun all times of the day .. and I just can't see the top to see if there is snow still there . I will go and see and hope !
Climbing up the mountain is quite easy with skiboards .. I have my Condors on either side of my pack , my Full Tilts inside of my pack , and nice lightweight low cut hiking boots. ! There were other folks climbing the mountain
but none to ski or ride !!!! A nice guy walking up the trail with his dog snapped this photo of me .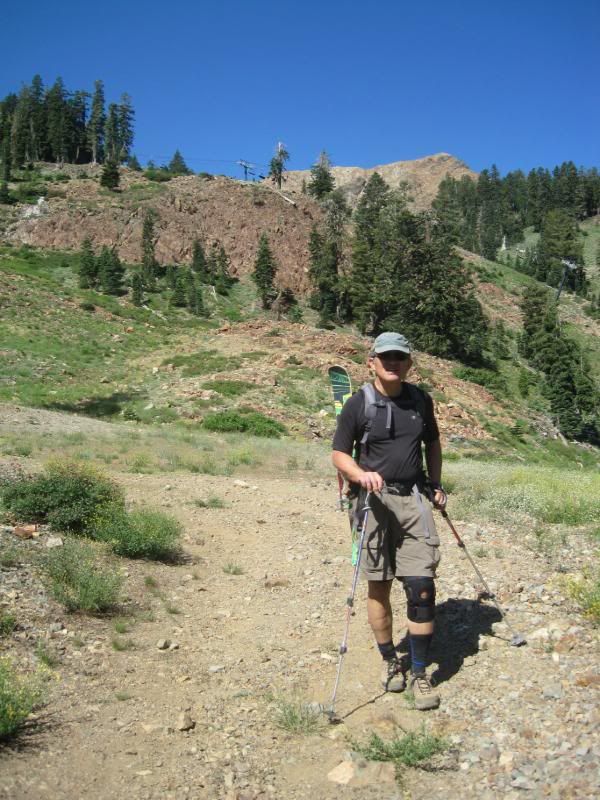 Getting into the upper bowl area .. . I see it straight up there ! Is it mirage or is it real!! I think there is really snow left up there...
The patch of snow is on the steepest section of the slope and runs right onto rocks . It is steeper now then during the season as there is much less snow on it . There is enough snow for maybe 4 turns albeit exciting steep turns .. with nice hard rocks to fall on if you slip and slide and don't stop in time . Also normally I just walk up the side of the patch .. but today I am interested in trying out Slow's new prototype touring binding for my Receptor binding .. this steep icy patch of snow will be the ultimate test for the performance of a touring binding . Doesn't matter how long it is , it will be exciting for sure
!
By the way this picture was taken AFTER I was leaving .. so you can see my tracks...
Ok , I arrive at the base of the patch ... .hmm ,doesn't that slope look inviting
!
Ok , time to snap into the touring binding to test it out climbing up this heinous patch of icy snow ..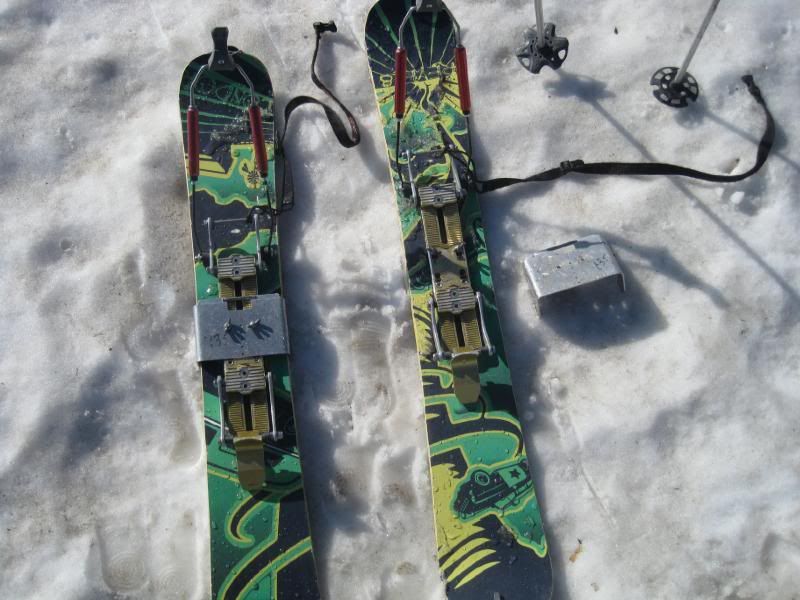 The touring binding works like a charm , heel elevator stays up ., the toggles restrict side to side motion of the front of my boot on climbing , telemark cables snap in and are retained very well by the telemark cable bushings ... just a fabulous and simple design that just drops into the receptor binding sole plates.. the receptor front lever is removed from the existing bale and attached to the front toggle assembly to serve as a heel elevator on the up and to lock the front of the boot on the down .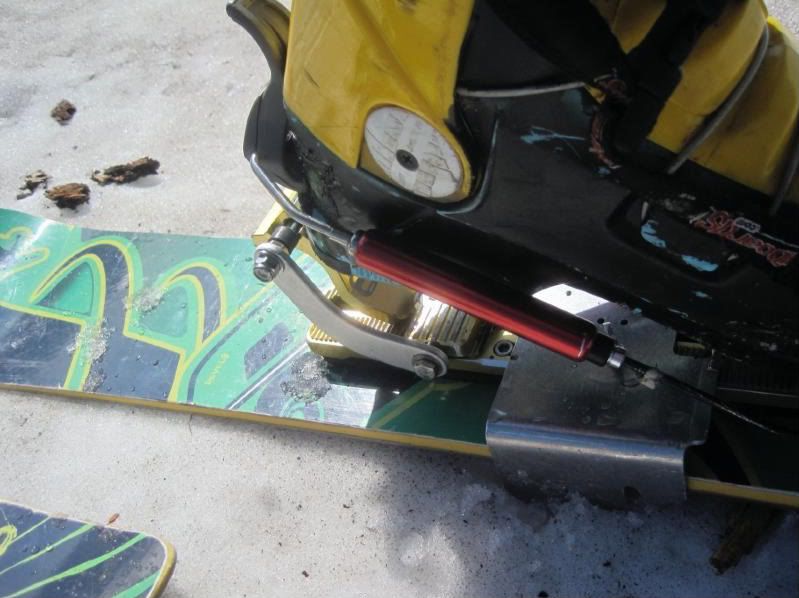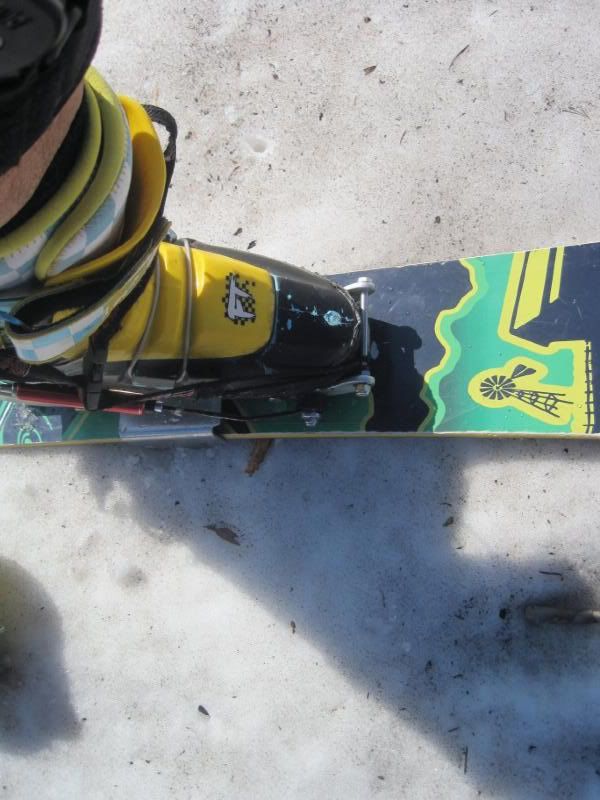 Ok the binding performed perfectly , unfortunately , the pilot did not .. My climbing skills have a bit atrophied from disuse and I am careless with stomping in a crucial crampon placement just as I reach the steepest part of this little patch and slip and fall rocketing down the little patch . I try to turn over and ram my ice axe pole in to the patch but do it too late and am already off the little patch into the rocks. Oh well , none the worse for wear .. I check myself out and have a bit of a scrape on the elbow .. but most importantly my equipment is all intact , nothing broke everything is still a go ! So up the hill I go again , this time more carefully and reach the top without incident .
Small war wound : ( I feel macho .. kind of like you kids scraping yourself falling off the park stuff !)
Ok up top , time to get locked and loaded...
Just take off the skins and crampons , flip the Condor around and snap in..
The telemark cable just stays on and is tied up to your boot by the leash ..
Locked and loaded and ready to drop ;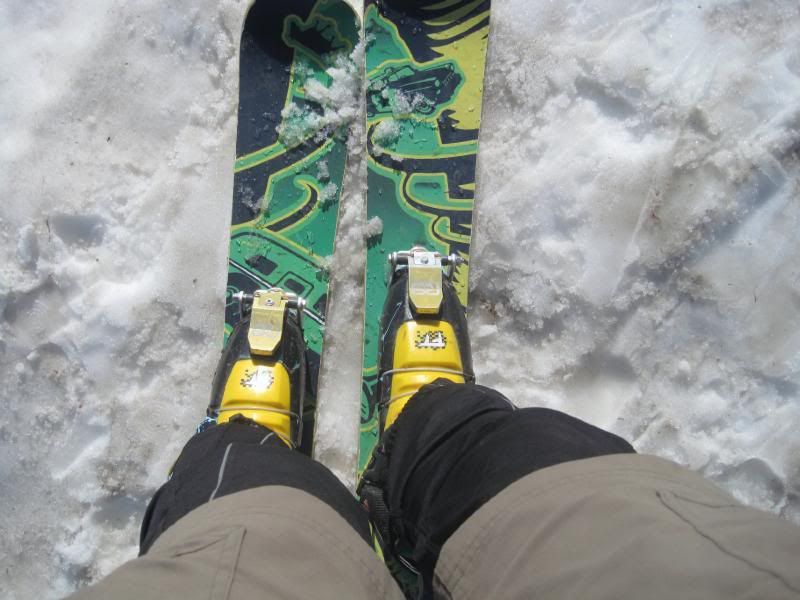 The down is over too quick , great fun even if it is only 4 turns , nice and steep
I am on my full on ski season skiboard equipment .. so going down is like no problem ! The toggle system holds my boot rigidly and I notice no movement , and it feels exactly as if I was locked into my regular Receptor binding .. Nice work ,Slow ! I climb and repeat a few times . and then head down the hill .
Nice wild flowers along the way .. . Here in the high country it seems like Spring rather than summer .. .!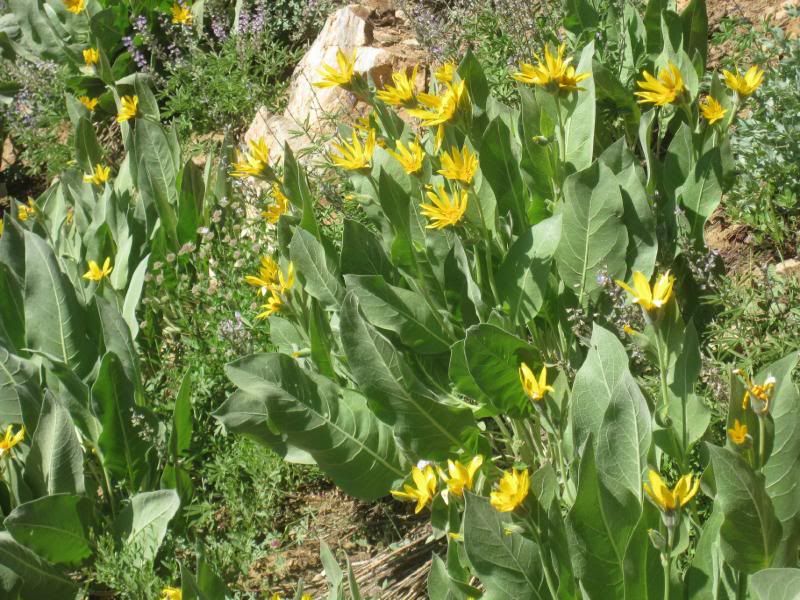 NIce way to say goodbye to the 2009-2010 season . SBOL store opens up again in a few short weeks ... and soon the new season will be upon us !
I hope you all enjoy the rest of your summer !!!
ps . Slow wanted me to check to see if his redesign of the toggle assembly allows large boots to fit with the standard size Voile telemark cable .. .. It sure does ! Here is my son's size 13 , sole length 351mm boot , in climbing mode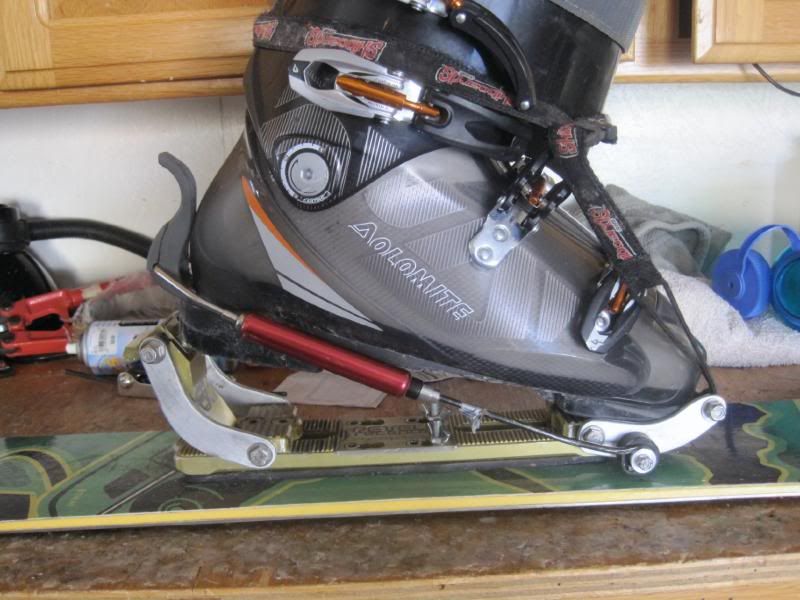 and locked and loaded for descent