Hey Valmorel .. here I am behind a tree ... !
I had a great time introducing Valmorel to riding the pow in the trees here in Tahoe over the last two Shredfests but today I will be climbing and riding in terrain more familiar to Valmorel from his trips to the Alps... not many trees where we will be going today .. Spring has sprung in the Tahoe Sierras and it is time to get out to get some of that firm spring snow .. We like it steep .. but to get to the goods Michael and I need serious heavy metal gear ski crampons , heel elevators up , solid equipment that will not let us down ... Billy , on the other hand , is a man from another planet .. he needs no heavy metal and has weird traction on his skis ... Micheal and I do not quite understand what gives with him but it is pretty magic how he climbs up the steep icy stuff ......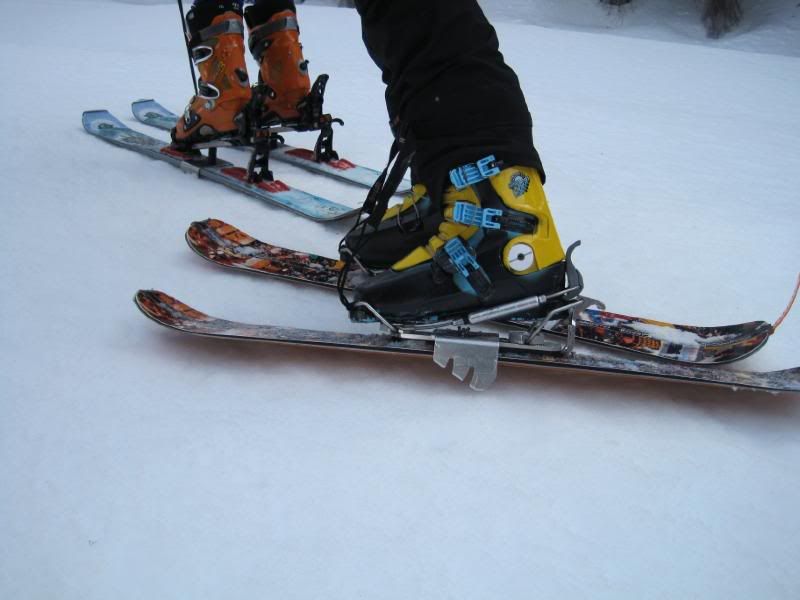 Here is the gear review ... today my Fail Tilt Booters , Zero binding , touring telemark cables , and crampons and most of all my Condors DID NOT SUCK !
I forgot to zip up my pants and my wallet fell out ... Micheal thought it was a miracle that twentys were blowing down wind on the slopes...
Billy found all my credit cards and my drivers license although the wallet was never found ... .that DID NOT SUCK !
In fact in Billy summed up the whole day " It doesn't Suck too much !"
Michael - the skier in the video .on Icelantic Scouts 143 cm skis with Fritschi bindings .. Micheal attended Shredfest and has learned from Wendell and often carries poles in one hand
Billy - the guy behind the camera , telemark skier on Hagan 130's , human spider man , no heavy metal for him , skis like the fiend he is .....
Jack - Skiboarder .... yeah I have a pole in one hand on the video ... that pole has a mean ice ax on the tip of it ... if I fall that ice ax is going into the snow to stop me from sliding ...... I did not fall , I did not slide down the slope , I made it to the launch pad under the Finger of death , I came down in one piece ... THAT DOES NOT SUCK !