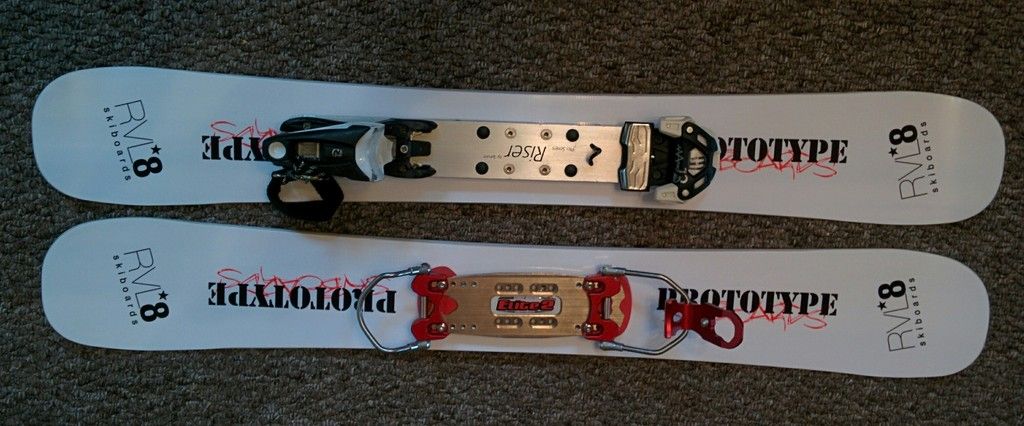 The Bottom Line
Another Home Run from SBOL. Wonderful stability, beautifully neutral handling, extremely comfortable ride, great edge grip, and that elusive 'Big Board' feel, all in a very cool format. Whats not to like?
The Ride
It takes just about 50 meters of riding to know the Spliff is going to be a great board. The stability is brilliant, a lot like a 120 actually, and then you make a turn, and it all just happens with so little effort and fuss. You dont have to make minor adjustments in the turn because the board is totally neutral. It just does what you want with no push back at all.
The edge hook up is soft. No grabbing, no hooking, nothing. It just progressively gets stronger the more angle you apply so managing edge grip is a dream. You can easily adjust on the fly, initial angulation never catches you out, yet even at low angles, the edges dont slide out. This is all quite different from any other of the R8 boards, which tend to be very on/off, with the exception of the Rockered Condor, which is mostly just off.
Stability is huge, perhaps because the board is overall quite stiff, so with the combination of neutral handling, great stability, and excellent edge grip, confidence builds very quickly. No problem. With a board this big, glide was never going to be a problem. Like the 120, there is none of the micro stop/start stuff going on, so you dont have to keep loads of leg tension to keep your balance. So much less tiring.
Currently I weigh around 160, and the board felt just great. It was clear it could easily handle much more weight. Gromit also rode them and he is MUCH lighter than I. No problems at all. This was impressive as the camber takes a lot of pushing flat.
Pushing the board hard was just brilliant. I never felt like I was at the edge of control. They just felt better and better.
Gromit and I rode them back to back with Blunt XLs. I was using stiff race boots with loads of forward lean. Both sets of boards were fitted with Spruce Riser/Attack 13 bindings at high DIN and with the toe piece adjusted a little lower than recommended. The two boards felt incredibly different. The XL gives a very loud and direct feedback to the rider, with instantaneous edge engagement and a very turn positive feel when carving, like it takes a concious decision to exit a carve. The Spliff is way more neutral, feedback being much less intrusive. Carving is very much turn neutral, with no effort to either enter or exit smoothly. Almost sub concious.
Stability is much better with the Spliff, though the XL is still good, but when it comes to stability, longer boards rock. Glide was also much improved on the 109, again, expected, simply by virtue of being bigger.
I then switched out to my upright boots. Boy did the 109 love those! The improved stability encourages a more upright stance anyway, but it also quickly became apparent just how much tail support there is. You can survive getting it horribly wrong on this board much better than on the XL, and its a whole other world compared to the Rockered Condor.
I never felt tired on them either. When cruising, the boards felt uncannily like 120s, there can be no greater praise than that, but pushed hard, showed an aggressive sport like nature that is going to keep me coming back for more and more.
So is this a G3 board or are we seeing the birth of G4? I think its G4. Other opinions will surface as the season progresses. It is most definitely fusion, and a GOOD fusion. I am writing this having not seen the production graphics, but I hope they are LOUD! I hope they scream 'Hey, look at me'. NOT my usual stance on graphics LOL.
Tech Stuff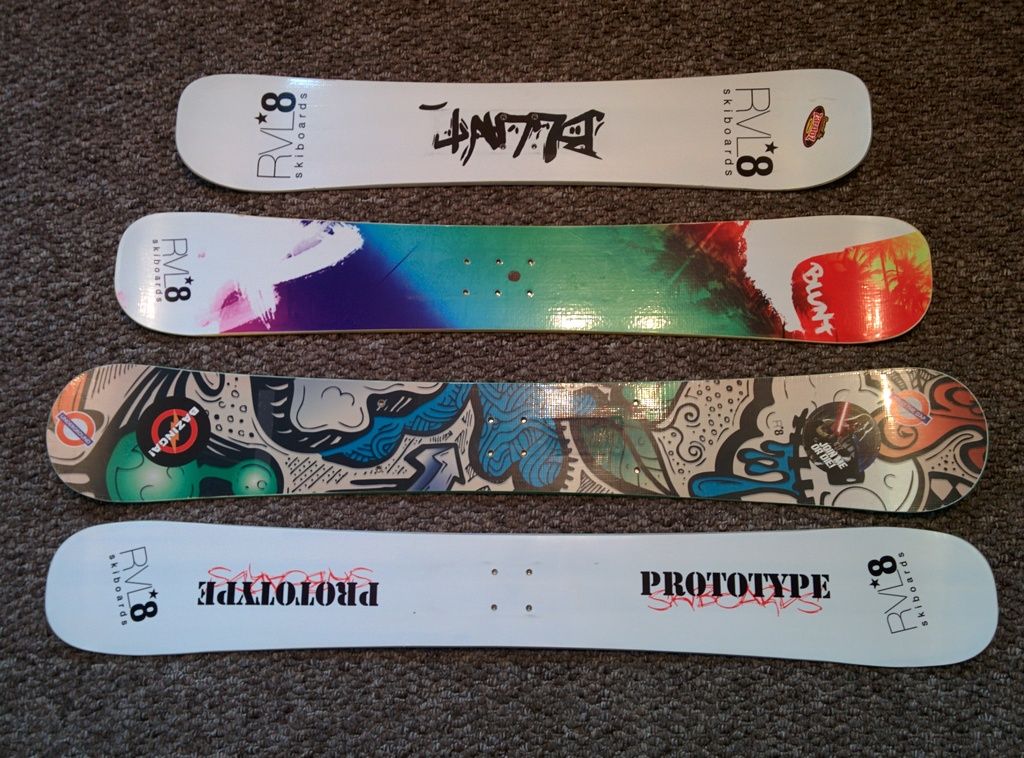 For comparison, the G3 boards
The Spliff uncompressed. Camber is quite high and the boards look a lot like a normal cambered board in profile

Compressed it becomes obvious just how much rocker there is
Even more obvious in close up
This is a comparison with the Rockered Condor. The edge on one side of the boards is aligned and the overlap on the other side shows the difference in width, The Rockered Condor being the wider.
With the boards held base to base, I am unable to compress them enough to get them to touch, even with both hands. This would signify a pretty stiff board, but they actually feel lovely and comfortable to ride.
They are listed as 109. You can see the tips are slightly blunter than the RCs, which drops the overall back a bit. I love this minimalism, but dont be fooled, this is a BIG board. Loads of float and glide here. I have zero doubts about taking them into deep pow.
Cant wait for winter . . . . . . .