I've been meaning to do a review of my step-in setup for some time now, and I finally got around to uploading some pictures. I got the step-in parts and the heels last season. I've used them on the Condors, KTP's, and '96 Lines. Personally, I really like this setup. I get the convenience of an easy-in, easy-out system similar to release bindings combined with the lightness of a nonrelease. I like a really stiff binding, and this is about as rigid a setup as you can get. There is a noticeable difference in edge control compared to your standard nonrelease bindings, especially on wider boards like the Condors. This is where the solidity of the setup really shines. There is, however, a limit to how useful the stiffness can be, and at that limit it becomes a detriment.
Having an aluminum heel with steel pins engaging an all-metal binding obviously allows for very little give, hence the stiff ride. For cranking over really wide boards, this is very helpful, but it also means there is no shock absorption in the system. There are two main problems with this. First, you must have your boots VERY tight, otherwise they will actually kick around your feet and result in a sloppy ride. Second, all the stress from riding on choppy terrain gets transmitted to the boards and your legs. This leads to early leg fatigue and also damaged boards. At ShredFest 3 I was riding this setup on the Condors, and the inserts in one board actually started to pull up a bit from the stress. At this point, I realized that the benefits of a super stiff binding only reach so far, and I needed to dial things back a bit. Slow had shown me his binding setup where he uses three rubber pads from the RVL8 Receptors to act as the riser for his Bomber Elites in lieu of the aluminum block and elastomer bumpers. He mentioned how nice the ride was with this setup, so I decided to give it a shot. Since the step-ins have a significantly higher stack height than regular Elites or Elite 2's, I only used two pads for my bindings. The result was a vastly improved ride with the rubber riser allowing just the right amount of give to absorb to smooth out vibrations.
So, now I have a nonrelease binding system that gives me great lateral control while riding and also has the benefit of easy-in, easy-out engagement. There are a couple cons to the setup, but they are negligible in my opinion. The first is that the step-in heels get packed with snow very easily, and this means that you have to take a couple minutes to clean them off before locking into the bindings. Since you generally only do this a couple times in a day of riding, it's now too big of a deal. The second is that this setup allows for nowhere to attach leashes to the bindings. The fit of the toe bail around the boot is so tight, there is no room to clip anything, and there is nowhere on the heel receiver either. Again, this really isn't a major issue since these have probably the lowest chance of releasing of any binding that I've seen. There would have to be a catastrophic failure of the system for the binding to release, and at that point you probably wouldn't be able to snap back in anyway.
In Summary:
The Good:
- Ease of use in and out
- Excellent lateral control
- You'll really confuse any alpine snowboarders you run into
The Bad:
- Snow packing into the heels can be a pain
- Nowhere to attach leashes
These are heels as they are straight out of the box. Notice that the handles are not attached to the cables. You must route the cables up through your boots and then attach the handles.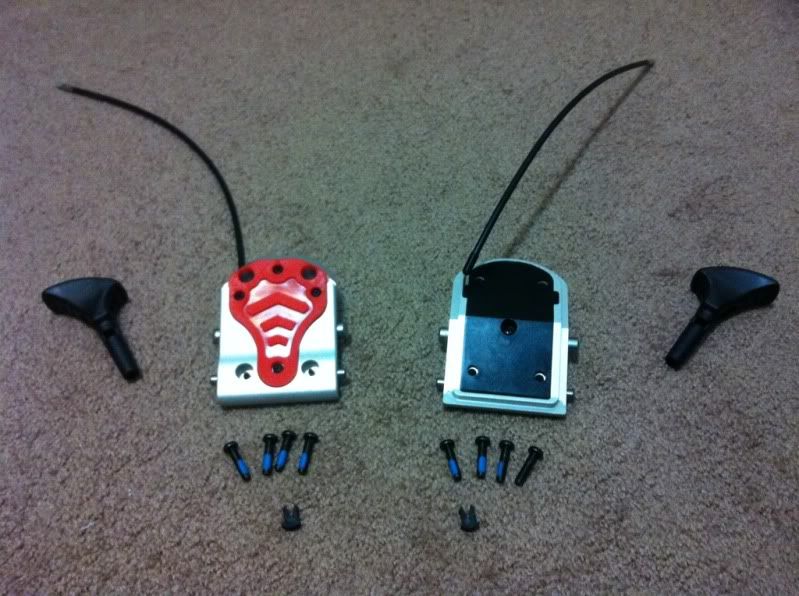 Removing the old heels is a relatively simple procedure, although I did get hung up on a couple screws that had been corroded and didn't want to come out. As I mentioned above, the cable must be routed up trough the boot, and here you can see the hole already provided. I did enlarge the hole a bit, so feeding the cable would be easier.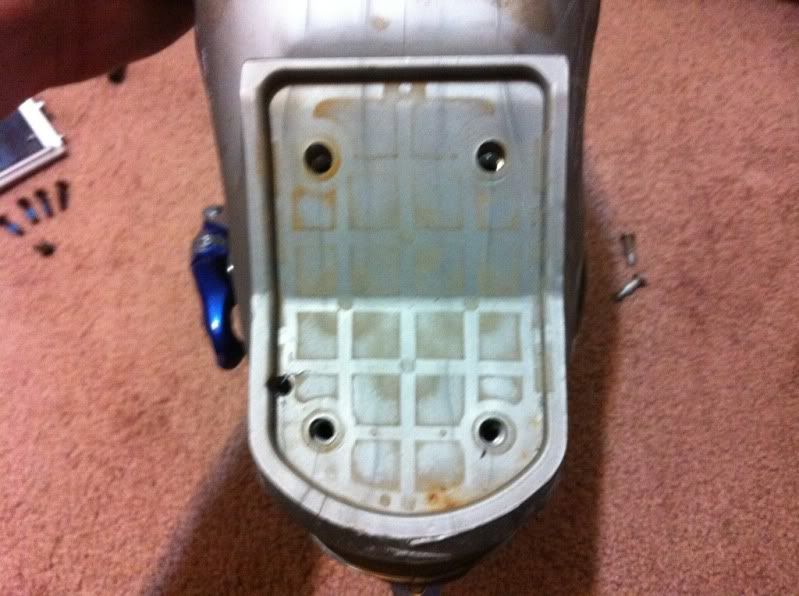 And here is an installed heel. The fit and finish is excellent, as I've come to expect from Bomber.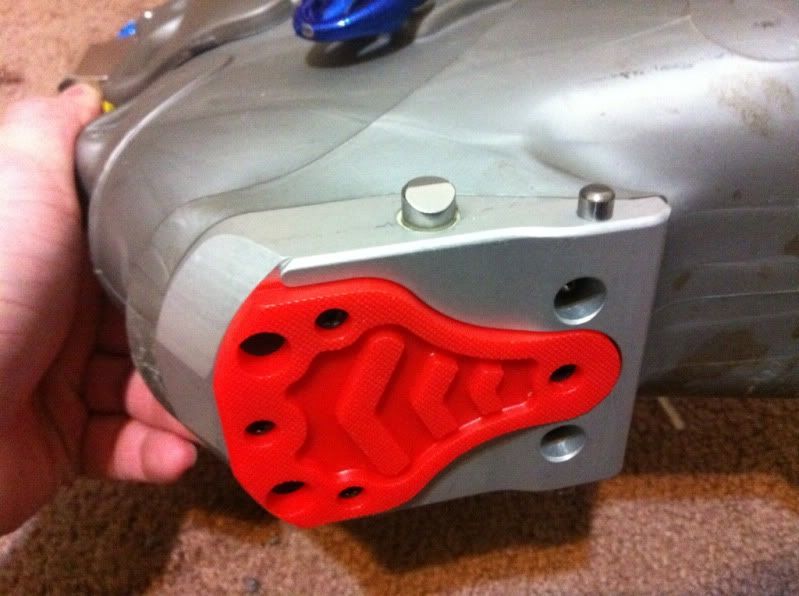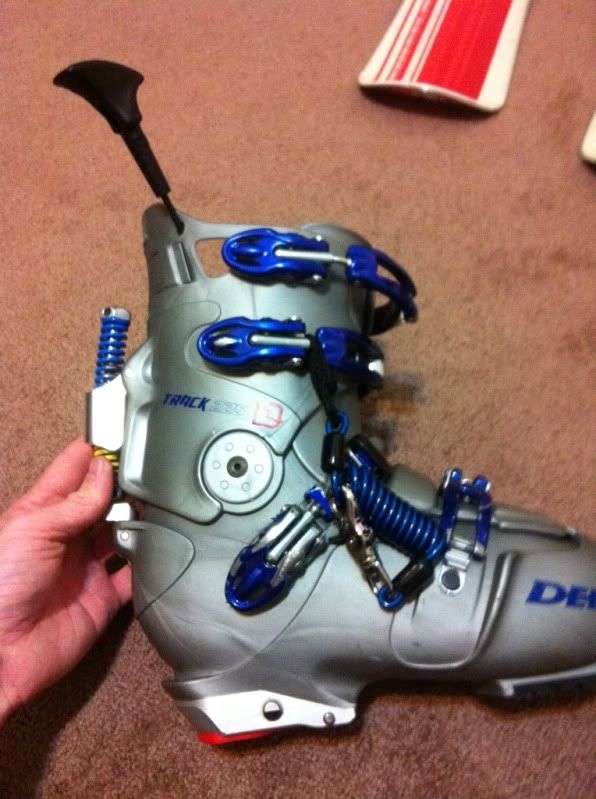 Unfortunately, I keep forgetting to take more pictures of the bindings or of the boots in the bindings. This is the only one I have. Please note that this does not show the rubber riser setup. This was taken before ShredFest, so this is the original hard mount onto my '96 Lines.