Is anything more fun than tinkering with bindings?
Anyone who has studied a pair RVL8 Receptors knows that besides the functionality, they're a beautiful piece of CNC machine work. For some time, I've been kicking around the idea of converting them into a riser that accepts conventional release bindings, retaining the micro-groove feature for boot-length adjustment.
This conversion replaces the toe and heel pad/bail assemblies with new aluminum plates, tapered on the terminal ends and sized to accommodate release bindings. The underside has milled v-grooves that mesh with the factory v-grooves, just like the nonrelease version. The tricky part was accessing the retaining/adjustment screws, since the release bindings would cover them up. The solution was to tap threads into the plate itself, and come up from the bottom side with a retaining screw and bushing. The binding must be removed to adjust for length---so it's more complex than conventional demo bindings---but still fairly simple and allows very precise fitting.
Rossi turntable release bindings were used for several reasons. They're shorter-coupled than most bindings which made for a nice, compact assembly. The factory length adjustment on the turntable heel part is minute, which allows little margin for error with a conventional direct mount but is irrelevant with this adjustable set-up. Supposedly, the turntable design allows a sideways heel release which might be a safety benefit in certain situations.
Here's the set-up (on my messy workbench):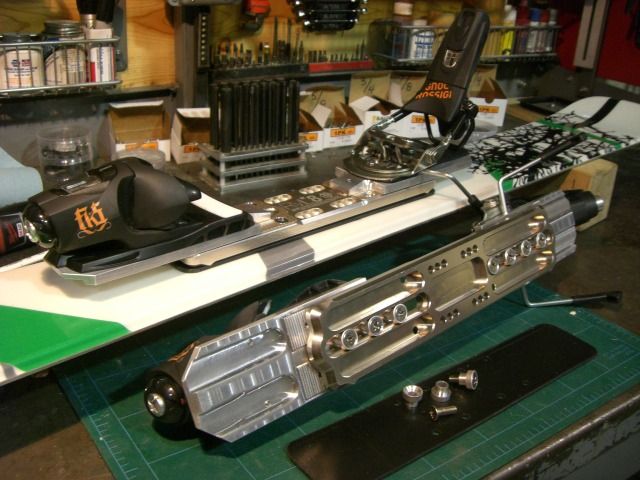 These were finished late last season just in time for a few runs at shredfest. They seemed to perform fine. Since then a few things have been tweaked that I'm anxious to try out this season.