Winter is coming, so let's start planning! The 9th annual Midwest Meet will be held January 19 - 21 at the one of a kind Mount Bohemia, MI (in the Upper Peninsula).

Bohemia is known for epic snow fall and untouched powder. Recent years have seen 351 inches!
Check how much fun we had last year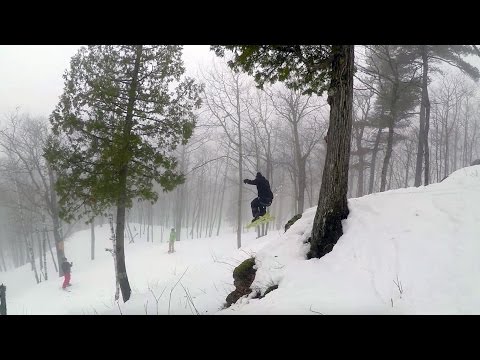 Mount Bohemia's Website:
http://mtbohemia.com/
"Mount Bohemia has the
longest runs with the highest vertical and deepest powder in the Midwest
. Bohemia is all-natural, and has no problem without snow guns. The
average snowfall in the Keweenaw is 273 inches
. The lake effect snow is dry similar to western resorts and accumulates as
powder which is untouched because we do not groom.
Bohemia's two new sections; the Outer limits has 100+ acres of inbounds backcountry skiing with 17 new runs even longer and trickier than before."
When?
You know the drill! Same weekend we know and love. We'll be riding Friday - Sunday January 19 - 21. Some arrive in the area the night of Thursday, January 18.
Group Lodging
1.
Historic house in Calumet
In the spring, several of us stayed at this
historic house in Calumet
. It certainly wasn't a luxury establishment, but it was a fun way to spend time together as a group and a great way to keep prices down.
Here's a little tour
. The listing says it sleeps 12, but that's a bit of a stretch. Without sharing beds, we could comfortably fit 6 or 7 on beds and couches. I've booked the house for January 18-21. Total cost is $586.30 including all fees and taxes. The nightly cost of $195.43 will be split between whoever is staying each night, so if you're not showing up until Friday, you won't have to cover lodging costs Thursday.
2.
Streetcar
Jake and John have reserved the Streetcar just outside of Calumet. They're looking for one more person to join. A bedroom with a king bed is available. The cost per night per person (assuming there are 3 people) would be $44. With the cleaning/service fee it might come out to be closer to $50 or $55 a night. Please let Jake know if you are interested. Jake and John are planning to arrive Thursday afternoon and head home Sunday afternoon.
Other lodging
In recent years we've stayed at the AmiericInn in Calumet. This is the most expensive, but most comfortable option overall. The hotel has been remodeled and it seems their prices have increased a little as well. One room split between two people has an estimated cost of $140 each.
Lift Tickets
Every year Bohemia has a $99 season pass sale on the first Saturday in December (this has been extended to start as early as Thanksgiving lately). Most of us take advantage of this, which works out to be a great deal for riding three days. Several of us have also made a second trip back later in the season. Another option is to purchase lift tickets each day for around $50. If you decide to buy lift tickets on site each day, keep in mind that Bohemia has a credit/debit card only policy (no cash). If you bought a multiyear pass, check out those details in advance so you can be prepared.
Schedule
Here's what our typical schedule looks like. We're open to any suggestions!
Thursday Evening
- Early arrivals (people who want to ride right away Friday AM)
Friday
- Arrive at Bohemia
- Ride
- Head back to lodging (30 minute drive to Calumet)
- Dinner in Calumet
Saturday
- Drive to Bohemia
- Ride all day
- Head back to lodging
- Dinner in Houghton
- Back to Calumet
Sunday
- Pack up, check out of lodging
- Ride until you can't anymore
- Depart
Carpools
Minneapolis, MN area:
Courtney - Room for 3 people, can pick up from Minneapolis airport (MSP) around 11am Thursday. Plan to arrive drive up to Calumet Thursday evening. Will be returning to the airport early Monday morning to catch an 8:45 flight to Utah.
Carpoolees: Brick, new Tyler
Green Bay, WI area:
Andrew - Room for a few people, can pick up from Milwaukee airport. Plan to arrive Friday afternoon.
Carpoolees: Tim
Who else is driving? Let us know and I'll add you here!
Feel free to contact Courtney or adeehr directly for more information.
Who's coming?
We'd like to get a list going of "definitelys" and "maybes". Please post and let us know where you belong and we'll add you to the list. Bonus points for making the definitely list before December... but only if you definitely show up!
Definitely!
Courtney
Andrew (adeehr)
Tyler (Tphelps927)
Tim (CrazyBoy-1)
Brick (ElkCloner)
Brian (bec2745)
Jake (jake.newhouse)
John (Bikeplatt)
George (g.dub)
jackschmid (jackschmid)
Old Tyler
If you're hoping to make it let us know and we'll put you on the list!
While you contemplate, check out the great times we've had over the years: Midwest Meet Playlist
Frequently Asked Questions:
Q: Bohemia's website says "experts only" - should I consider coming?
A: Yes! As long as you're comfortable riding in trees and quickly turning both directions, you'll be fine at Mount Bohemia. The mountain is 100% natural, so some experience in powder riding / variable conditions is a plus, but not required. Regardless of your riding level, no one will be left behind.
Q: Do I need to wear a helmet?
A: A helmet is highly recommended. Riding in trees makes for variable conditions and we don't want anyone to sustain any serious injuries.
Q: What should I bring?
A: Here's a helpful list.
Things you need to bring to Bohemia (or you're gonna have a bad time)
General:
- A credit / debit card (cash is not accepted at Bohemia)
- Printed confirmation of buying your season pass (just in case you're not on their list, because that happens)
- An ID to prove who you are
- Printed directions to get to Bohemia (your GPS is probably going to bring you someplace other than Mount Bohemia)
- Health insurance cards (not a bad idea to carry these on you while riding, just in case)
Riding:
- Skiboards (bring an extra set if possible)
- Bindings
- Boots
- Leashes
- Helmet
- Goggles
- Jacket
- Snow pants
- Layers (the more the better)
- Gloves / mittens
- Ski socks
- Something to cover your face
Things you might want to bring to Bohemia (but probably wouldn't die without)
- Hand warmers / foot warmers if you get cold when it's cold (sometimes these are hard to find in Houghton, depending on how cold it has been)
- Camera, GoPro, etc
- Chargers for your devices
- Food, beverages, snacks (Bohemia's food isn't great or cheap)
- Extra outerwear in case you get really wet or something
- Wax, iron, etc (I'll bring mine, usually a few other people do too)
Pro Tips:
- Don't go in the ditch (you're going to be in the middle of nowhere)
- Don't lose your wallet or car keys (this has happened)
- Wax your boards before the trip
- While cellphone coverage has been improving in the area, signals tend to not be great, so be prepared for that
- If you'd like a copy of footage shot from various cameras, bring an external hard drive (ideally something Mac or FAT32 formatted)
- The internet in the general area sucks at best
If you can't make it to the first meet check back in the spring. We typically make another trip out in March. Here's a video from the spring: