Oh hey, check out this video hot off the press from Midwest Meet 5.2 / Back to Bohemia!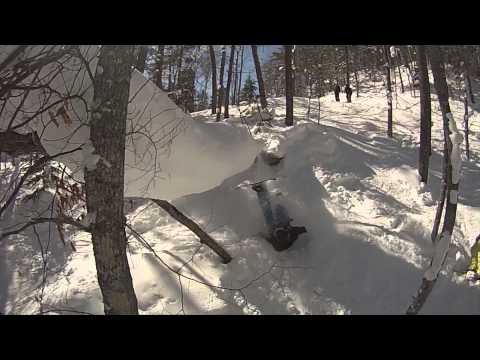 Huge thanks to our new friends Jake and John. As you can see, they made their first trip to Bohemia a smash success.
---
Guess what?! It's that time again! The SIXTH! annual Midwest Meet will be held January 23 - 25 at Mount Bohemia, MI (in the Upper Peninsula).

Did I mention Bohemia got an epic 351 inches of snow last season?
Mount Bohemia's Website:
http://mtbohemia.com/
"Mount Bohemia has the
longest runs with the highest vertical and deepest powder in the Midwest
. Bohemia is all-natural, and has no problem without snow guns. The
average snowfall in the Keweenaw is 273 inches
. The lake effect snow is dry similar to western resorts and accumulates as
powder which is untouched because we do not groom.
Bohemia's two new sections; the Outer limits has 100+ acres of inbounds backcountry skiing with 17 new runs even longer and trickier than before."
When?
You know the drill! Same weekend we know and love. January 23 - 25 (riding Friday - Sunday).
Lodging
We will be staying on site again this year in the yurts. If we have more than 9 we can supplement with cabins, but we need to know you're coming in advance! On site lodging does sell out, so don't wait until the last minute. The best part is we take care of the reservations and you just paypal us your payment to reserve your spot. No thinking, no organizing, just get there! More info about lodging and payments to follow.
When you're ready to reserve your spot, check out post #3.
When you send your payment, choose "Send to Friends and Family" to avoid the Paypal fee
Lift Tickets
Every year Bohemia has a $99 season pass sale on the first Saturday in December. Several of us have taken advantage of this, which works out to be a great deal for riding three days. Several of us have also made a second trip back later in the season. Another option is to purchase lift tickets each day for around $50. As of last season, Bohemia had a credit/debit card only policy, so you'll want to keep that in mind when making your decision.
Schedule
Friday
- Arrive at Bohemia
- Ride
- Pot luck dinner
Saturday
- Breakfast (included when you stay onsite)
- Ride all day
- Dinner in Houghton
Sunday
- Breakfast (included when you stay onsite)
- Ride all day
- Depart after riding or just decide to stay forever
Carpools
Minneapolis, MN area:
Courtney - Driving from Minneapolis. Room for 2 people, can pick up from Minneapolis airport (MSP).
Carpoolees: Brick, Patrick
Arriving in Houghton on Thursday, January 22 - staying at Super 8
Green Bay, WI area:
Andrew - Driving from Green Bay area.
Carpoolees: Tim, Nick
Arriving at Bohemia Friday, January 23 around noon
Madison, WI area:
Jake & John - Driving from Madison area.
Detroit, MI area:
Sam - Driving from Mount Clemens, MI (Metro Detroit) space for 1 or 3 people.
Carpoolees: Still available
Arriving in Houghton on Thursday, January 22 - staying at Super 8
Who else is driving? Let us know and I'll add you here!
Feel free to contact Courtney or adeehr directly for more information.
Who's coming?
We'd like to get a list going of "definitelys" and "maybes". Please post and let us know where you belong and we'll add you to the list. Bonus points for making the definitely list before December... but only if you definitely show up!
Definitely!
Courtney - PAID
Andrew (adeehr) - PAID
Tim (crazyboy-1) - PAID
Brick (ElkCloner) - PAID
Sam (MoltenCore) - PAID
Marshall (Maverick) - PAID
Getoffmecrab (Patrick) - PAID
New Tyler (tphelps927) - PAID
Local George (g.dub) - LOCAL
Jack (jackschmid) - OFF SITE
Nick S (jack's friend) - OFF SITE
Jake (jake.newhouse) - OFF SITE
John (Bikeplatt) - OFF SITE
YOUR NAME HERE!
Maybe?
Jare (jare_ball248)
Nick (ZwingZ)
YOUR NAME HERE!
If you're hoping to make it let us know and we'll put you on the list!
While you contemplate, check out the great times we've had over the years: Midwest Meet Playlist
Frequently Asked Questions:
Q: Bohemia's website says "experts only" - should I consider coming?
A: Yes! As long as you're comfortable riding in trees and quickly turning both directions, you'll be fine at Mount Bohemia. The mountain is 100% natural, so some experience in powder riding / variable conditions is a plus, but not required. Regardless of your riding level, no one will be left behind.
Q: Do I need to wear a helmet?
A: A helmet is highly recommended. Riding in trees makes for variable conditions and we don't want anyone to sustain any serious injuries.
Q: What should I bring?
A: Great question! Here's a helpful list.
Things you need to bring to Bohemia (or you're gonna have a bad time)
General:
- A credit / debit card (cash is not accepted at Bohemia)
- Printed confirmation of buying your season pass (just in case you're not on their list)
- An ID to prove who you are
- Sleeping bag (or a few blankets)
- Pillow
- Towel (someone always forgets this)
- Soap, shampoo, deodorant
- Printed directions to get to Bohemia (your GPS is probably going to bring you someplace other than Mount Bohemia)
- Health insurance cards (not a bad idea to carry these on you while riding, just in case)
Riding:
- Skiboards (bring an extra set if possible)
- Bindings
- Boots
- Leashes
- Helmet (we don't want you to die)
- Goggles
- Jacket
- Snow pants
- Layers (the more the better)
- Gloves / mittens
- Ski socks
- Something to cover your face
Things you might want to bring to Bohemia (but probably wouldn't die without)
- Hand warmers / foot warmers if you get cold when it's cold (sometimes these are hard to find in Houghton, depending on how cold it's been)
- Camera, GoPro, etc
- Chargers for your devices
- Boots to carry stuff through deep snow in (to get to the yurt)
- Food, beverages, snacks
- Extra outerwear in case you get really wet or something
- Wax, iron, etc (I'll bring mine, usually a few other people do too)
- A backpack to carry stuff on the hill (if you're into that)
Pro Tips:
- Don't go in the ditch (you're going to be in the middle of nowhere)
- Don't lose your wallet or car keys (this has happened)
- Wax your boards before the trip
- Cellphones don't typically work very well at Bohemia, so be prepared for that
- If you'd like a copy of footage shot from various cameras, bring an external hard drive (ideally something Mac or FAT32 formatted)
- The wifi sucks at best, get your Netflix bingeing done before you come