The latest installment of our Featured Rider series is with slow. I had the pleasure of meeting slow at Shredfest V and he is truly a gentleman. Gifted engineer, master tinkerer and skiboarding enthusiast.
SBOL: What is your real name and where do you live? Can you tell us a bit about what it is like to live in your area?
I am Yaroslow Muzyka and I was named after my uncle in the Ukraine although I was born and still live in Winnipeg, Canada. My forum name "slow" is my life long nickname which is pronounced like the word "cow". The nickname came about because my parents called me "Slowko" when I was a youngster. Then my friends, family and work colleagues abbreviated it to "Slow".
With Winnipeg being in a flood plain of central Canada, our terrain is very flat. Not the best place to have a snow sliding hobby. Our climate covers both extremes. It can be bitterly cold in the winter as it was this year and extremely warm in the summer. With an abundance of sunshine all year round, outdoor activities like camping, cycling, hiking and skiboarding are very enjoyable. Within a one and half hour drive north, we have one of the best fresh water beaches in North America called Grand Beach and the same distance to our east we have the scenic lake areas of the Whiteshell and Lake of the Woods, both frequented by celebrities. But what keeps most of us here is family, the friendly people and a very stable economic environment without the boom bust cycles that other cities experience.
SBOL: How did you get into the sport of skiboarding?
When our daughter was about 10 years old, my wife won a snowboard in a fundraising raffle. We started taking our daughter and son to the local resorts and I too took snowboard lessons. But I felt awkward and my wife Maria would not even try.
As they advanced, we started driving 17 hours to Banff, Alberta or Fernie, BC at Christmas and Spring breaks so they could experience a "real" mountain. During all these trips covering about 6 years, Maria and I would stay in the lodge and read books; neither of us having enough confidence to get on the mountain.
One day my daughter was to drive to a local resort with a friend, but the weather turned bad and she asked that I drive them. It is not very often an 18 year old asks for something other than money from her dad, so I happily agreed. Once we arrived, I was wandering around the rental area and noticed some Head Big Easy on the rack. I immediately said to myself "I can do that!" After a couple of runs on the bunny hill, I made my first green run off the chair and had a huge smile on my face. By the end of the day I was on more difficult runs. But keep in mind that the resort's runs are only about 250 feet in vertical elevation, so not much of a challenge during the 25 second it takes to ride down.
Within a month I had my own SnowJam 90s and 75s for my wife after finding SBOL on the web and communicating with Greco. That was ten years ago and I have purchased most of the available skiboard models since that time.
SBOL: You have shared on the forum that you live on the Canadian prairie with the only ski resorts close to you being somewhat unique – you have described it as skiing in "ravines". Can you tell us about where you ski locally?
With our terrain so flat, our local resorts are not on mountains. Rather they are in ravines that were formed when water eroded the soil at the end of the ice age. It is best described as riding down the deep banks of a dried out river.
Our closest resort is 20 minutes away, only 130 feet high and is manmade as part of our city's flood protection system. I rarely go there except for a quick test of equipment. We usually travel 2 to 2.5 hours to ride at one of three other resort options with elevations of 200 to 250 feet. Keep in mind that these resorts only have 5 to 7 short runs so it becomes boring very quickly. Therefore, we mix it up by rotating through each of these three resorts on different days. Our only other "local" resort is over 4 hours away, but is more of a "mountain" experience even with only 350 feet of elevation because of the 30+ runs and amenities.
SBOL: What are some of your favorite places to ride? If you had to pick one place, what is your favorite and why?
We have been fortunate to have skiboarded at many mountain resorts including those at Whistler, Banff, Fernie, SLC, Park City and Lake Tahoe. Every resort has something unique to offer, but we cannot resist going back to Lake Tahoe because of the beautiful scenery, warm temperatures and hospitality of the Cali riders.
SBOL: You and your wife have been going to Shredfest for a number of years now and you serve as an "unofficial" coordinator for the event. Tell us about your Shredfest experiences – why did you attend your first one, what is Shredfest all about and why do you keep going back?
We attended the first Shredfest because the Cali riders were so welcoming and it was an opportunity to meet some incredibly nice people I got to know on the forum. Six years ago we never would have thought we would attend every Shredfest so far and also participate in its organization. At the time we thought it would be a one-time trip given the cost. I think our attendance record at Shredfest speaks not only to how much we enjoy the Tahoe area and climate, but also the friendships we have made and are able to maintain in a special way by attending Shredfest each year.
I often get credit for being the organizer for Shredfest, but the reality is I only serve a communication function in advance of Shredfest on the organizing team that includes jjue and Wendell. They strategize and make decisions based on conditions, rider abilities, etc. I simply document what they decide. Then the three of us share the on-mountain responsibility of trying to keep participants together, safe and informed. Not knowing the resorts as well as jjue and Wendell do, I end up holding up the rear of the pack as the last man.
SBOL: On the forum you have shared many of your equipment modifications, such as the "duckfoot" riser and your version of the twist out fixed binding. You seem to have a technical/engineering background, the mechanical skills and the right tools. Can you share some insights into your background and why you enjoy these types of projects?
As a teenager I was consumed by the sport of snowmobiling and I realized that many snowmobile racers had an engineering background. That and my interest in building (and dismantling) things set the stage to becoming an engineer. I graduated as a mechanical engineer in 1981 at the time when computers were the hot new technology. Fortunately for me, a US based company had just set up a state of the art design and manufacturing facility to build disc drives for mainframes computers in Winnipeg.
I lucked out with my first engineering job with the disc drive company as a product design engineer. Not only did I get to work with some of the best precision mechanics engineers from around the world, but I was able to develop skills in some of the most advanced technology of the time including operating a scanning electron microscope, particulate, vibration and finite element analysis. I was also an early adopter of CAD and progressed from 2D and 3D to solid modeling as the software became available. A couple of years later with the emergence of the first personal computer, I and my then new wife Maria (who is also a mechanical engineer) were parachuted into Silicone Valley California. Our design team was one of many in the industry racing to be the first to design a 5 ¼" hard disc drive.
Those product design and analysis skills served me well over a 20 year product engineering career which included designing elements of test equipment for the Canada Arms located on the international space station, specialty medical equipment and aids for the disabled and other specialized equipment involving mechanisms. I was also very fortunate to be able to fulfill my dream of designing snowmobiles and associated 2 stroke engines over an 8 year period with a Minnesota snowmobile manufacturer. That was the most fun I ever had in my career. Nothing beats designing, hand building and playing with big boy toys while working alongside the legends I read about as a teenager.
About the time I discovered skiboarding, I finally gave in to the pressures to move into an operational leadership role. I am now the VP of Operations for a company that designs and builds acoustic silencers for commercial, industrial, and power generation applications. Other than scolding engineering for poorly executing a design, my role has no engineering or product problem solving challenges to it anymore.
Skiboard related design & build projects now fills my need to tinker with product design challenges and the satisfaction of fabricating those designs.
SBOL: What are your favorite equipment modifications that you have done and why are those favorites?
The BTK (Backcountry Touring Kit) project was a lot of fun because of the interaction with a number of forum members including jjue, Bill and valmorel. It took me back to the days of napkin sketches, out of the box brainstorming and interesting debates as the design evolved.
From the perspective of what I use the most and therefore has the most lasting gratification, it has to be the Twist Out binding that I extrapolated to the Bomber from valmorel's initial design. Its functionality, ease of use and light weight make it a great binding that I have used exclusively since I built it in my garage on a mini lathe with a mill attachment. I also have the benefit of being able to utilize welders at work (for a fee) whose skills are far superior to mine on a critical piece of equipment like a binding.
SBOL: You had a set of custom skiboards built by CODA – your 120WTs. Can you tell us a little bit about that project – why did you have custom boards made, what ride characteristics were you after, what the process of working with CODA was like and your impressions of the boards?
The Coda was a bit of an accident from two perspectives.
I got involved with valmorel's DS110 project and purchased a pair. But because things did not work out for Brazen, we started talking about finding another cost effective builder for a second phase of the DS110 project. I also thought it best if only one of us took the financial risk with another builder so I started the search. Coda seemed like the best fit because of their flexible tooling that kept costs low.
Although the Brazen DS110 was not to spec or anywhere close to perfect, my pair performs fairly well IMO, so I did not feel I needed another pair. Another consideration was that I wanted a skiboard that would increase my odds of survival when participating in Jack's Shredfest Challenges. I therefore decided to give Coda a try with something different than the DS110 because I was still looking for a skiboard that would compensate for my fore and aft balance and endurance shortcomings in difficult terrain.
I started giving thought to what I wanted in the new skiboard and what the specs would be. My starting point was large surface area for float since I hover around 190 lbs, but in a relatively short package for maneuverability in bumps and to "safely" use the twist out Bombers. At the time I had been riding soft Condors exclusively and 120 Spruce prior to the Condors. Therefore I wanted the new skiboard to have the best of their characteristics. After numerous email exchanges with valmorel, I settled on low camber, a larger side cut radius, and a long running length (much like the original design intent of the DS110) with an overall length of 120 cm. I also studied the dimensions of all the skiboards I liked riding versus those I did not and I concluded that the difference in width at the waist and contact point near the tail needed to be minimized to avoid hooking. To achieve that, I narrowed the tail on my design. Narrowing the tail also would benefit how the new skiboard behaved in powder much like it does with the Sherpa.
Once I nailed down all the dimensions I was seeking, I shared the sketch with Chad at Coda. Chad was great to work with via email and he provided a fair price, practical time commitment and a word of caution that "he would be close" to the dimensions since he was using his existing flexible tooling and molds.
I could not be happier with the result (other than their weight because of the birch core which I did not give any thought to during the design, my bad). The Coda has become my go to skiboard for challenging terrain when I get out to real mountains. They are very stable in crud, maneuverable in bumps and trees and do not require shifting weight to my heels to ride powder which makes it easier on my thighs. But more importantly, they do not require me to constantly adjust fore and aft to stay balanced and in control.
SBOL: Any advice for people interested in getting a custom board built?
Do not expect perfection in one try. Fabricating skiboards is as much an art as it is a science and it may take a few tries if you decide to go that route. I got lucky with the first pair of Coda 120WT meeting my needs. Others who have built custom skiboards have not been as lucky. The reality for most riders is that there are more than enough commercially available skiboards now from SBOL and Spruce to match their needs. Therefore, IMO there are very few reasons, if any, to build a custom skiboard anymore.
SBOL: If you could only pick 2 skiboards to ride the rest of your life which boards would they be and why would you choose them?
The Codas and soft Condors have served me very well on Jack's Challenges.
You may be picking up on a theme here. My goal and my preparation each year has become to survive the challenge at Shredfest and these skiboards have served me the best over the years given my size and ability.
SBOL: Do you have a favorite skiboarding memory – something that really stands out in your mind?
It would have to be Shredfest II in 2010 when we brought along our snowboarding children and our son-in-law who at that time was dating our daughter. We had great weather, excellent conditions and jjue took us into some very memorable terrain in the side country. It was exhausting but a joy to witness my kids having an opportunity to experience it.
SBOL: Can you share a few of your favorite winter sports photos with us?
Frost Fire is one of our local resorts a 2 ½ hour drive away just south of the US / Canada border in North Dakota. It has an elevation of 250 feet with only one operational lift and about 7 runs.
Our first real mountain resort experience was at Banff in 2005. It took a couple of seasons before we learned how to skate and be in control in lift lines without poles. My wife Maria is in the top left of the picture.
There are much better views at Heavenly, Lake Tahoe than we have back home.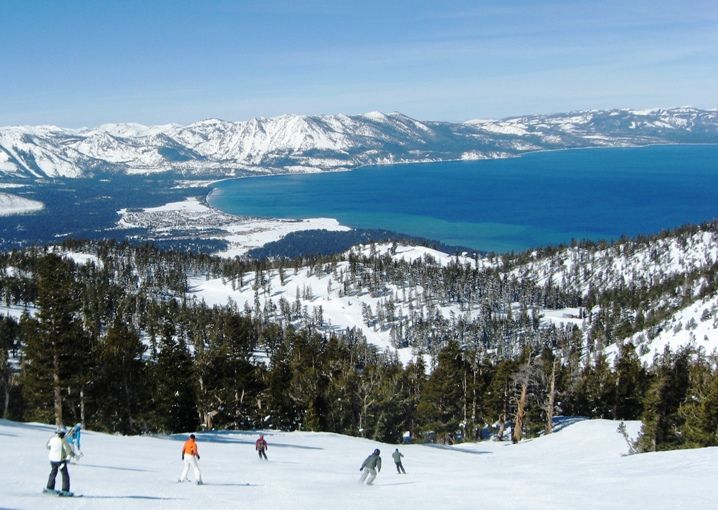 The first Jack's Challenge during Shredfest I with jjue and valmorel. This is the terrain the Coda 120WTs were designed for.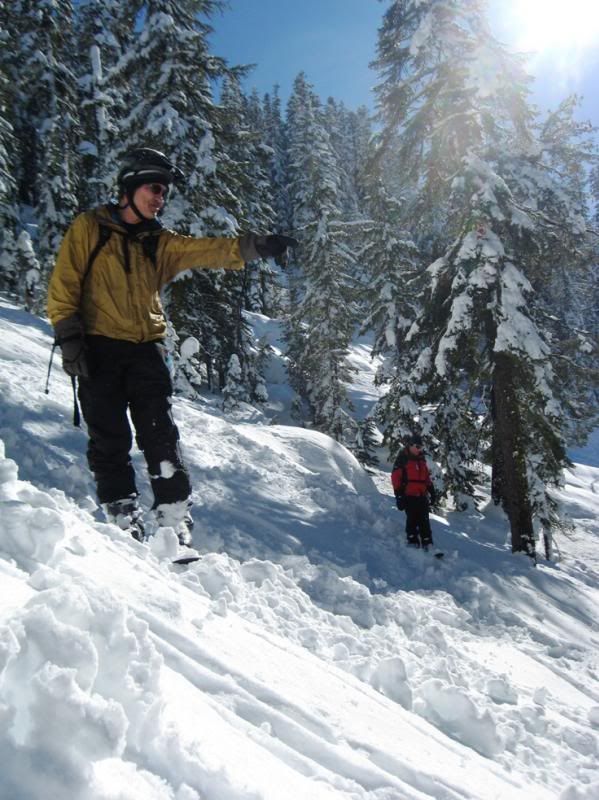 We were rewarded with a dump of snow while riding at Alpine Meadows for Shredfest IV.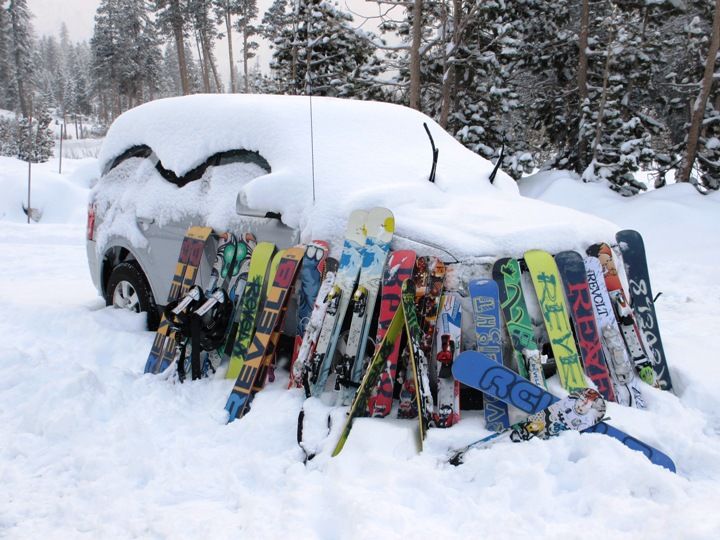 This is what skiboarding is all about……………… quality time with your best friend.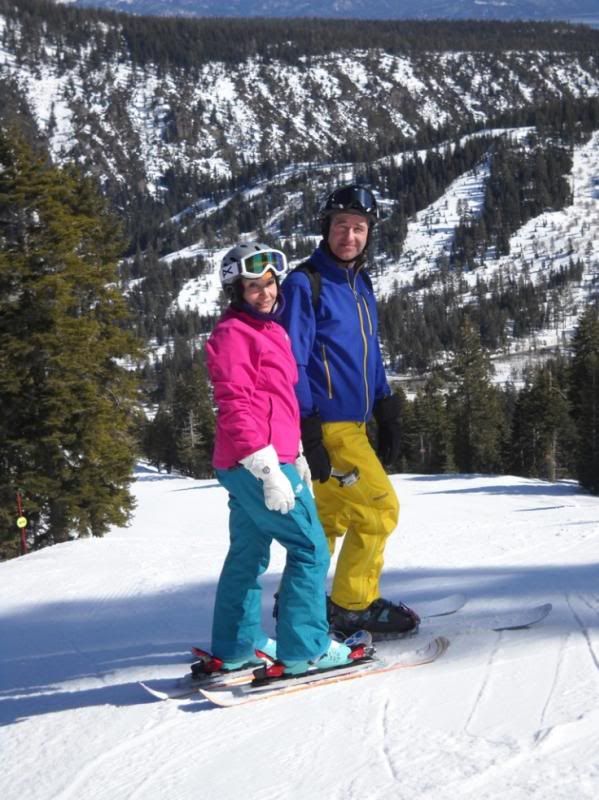 SBOL: Any final thoughts?
Prior to skiboarding, I was not physically active. I now cycle to keep fit in the spring, summer and fall. I work out in the fall to prepare for the upcoming skiboarding season. And tinkering with skiboard related product development projects has kept my mind active when it is too cold to be riding.
In addition to living healthier, having a reason to visit scenic locations and sharing those experiences with Maria, friends and family has been good for the sole.
I am very glad I took a chance ten years ago and rented those Head Big Easy skiboards. Skiboarding has changed how I live my life!